How Home Insurance Covers Flooding from Sump Pump Failure
A sump pump failure can lead to a disastrous water backup situation. Basement flooding is a messy inconvenience. Along with a water-logged basement is the high cost to restore the premises. Prevent an unsettling disaster by adding water backup coverage to a homeowner's insurance policy.
Why Do Sump Pumps Fail?
Storms and plumbing leaks can send large amounts of water into a home. The sump pump protects the basement from being submerged in anywhere from an inch to several feet of floodwater.  A failed sump pump can cause the flooding itself or worsen the flooding.
As a piece of mechanical equipment, sump pumps can malfunction. The pump's model, low quality design, inexpensive parts, and improper installation can all contribute to the equipment's inability to perform. Aside from these five factors, a sump pump will often fail for many reasons.
Heavy Rain
Heavy rains may overwhelm a sump pump, causing it to fail simply because it is and not powerful enough to handle the significant volume of water. Homeowners utilizing cheap, plastic models will see poorer results in comparison to those who install powerful, high-capacity pumps.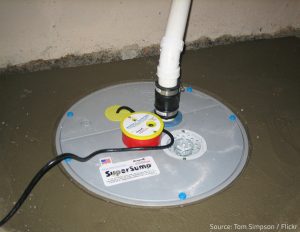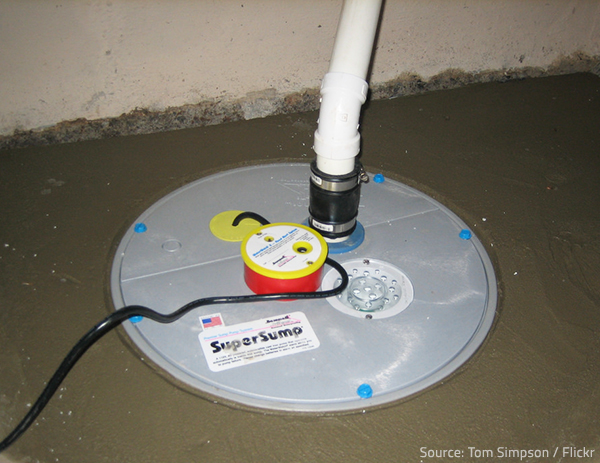 Clogs
A sump pump without a covering will develop clogs from accumulating dirt and debris. A clogged sump pump will stop working. The pump's float switch will also jam. An airtight lid, however, will keep the pump clean and allow it to function at the most critical times.
Power Outages
Electricity powers sump pumps. In the event of a power outage during a torrential downpour, the sump pump without electricity will fail to operate. As a result of the pump failure, the basement will inevitably flood. Installing a battery powered backup pump is recommended.
What is water backup coverage?
As is evident, sump pump failures can occur at the most inopportune times, leaving homeowners standing knee deep in floodwater. Homeowners will face an exorbitant restoration bill, up to $10,000 to repair a few inches of water and up to $50,000 for more substantial fixes.
Fortunately, homeowners who have elected the optional add-on will rest easy. Water backup coverage helps to reduce the cost of repairs resulting from an overflowing sump pump. However, standard homeowners' insurance policies do not automatically include sump pump overflow coverage.
Renters and homeowners should consult their independent insurance agent to determine whether their policy includes water backup coverage. If not, homeowners can add the optional endorsement. Otherwise, they are on the hook for paying out of pocket for repairs.
Expected Added Costs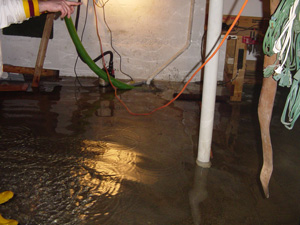 While homeowners will pay slightly more for the water backup coverage, the cost is relatively inexpensive. Homeowners might shell out an additional $50 to $250 annually for water backup and sewage coverage. Costs depend on the selected limits and risk exposure.
Water Backup Coverage Limits
Limits should take into account the type of goods stored in the basement. Homeowners with irreplaceable property housed in the basement should choose limits accordingly. Lower limits are appropriate for an unfinished basement or one utilized as a storage area.
Sump pump failures can happen to anyone, including homeowners who do not live in a property with a basement and those who live in a low-risk flood zone. Even property owners with a separate flood insurance policy should strongly consider adding water backup coverage.
What Does the Endorsement Cover?
In the event of a sump pump failure or overflow, the water backup endorsement covers property damage. Possessions destroyed by the floodwater and the cost of water damage cleanup are covered by this optional add-on—as long as the homeowner is not a cause of negligence.
The homeowner can additionally opt for further coverage to cover the cost of a broken sump pump. The equipment breakdown endorsement will cover the price of the sump pump itself. The cost for this particular coverage is also minimal, ranging from $25 to $50 annually.
What Does the Endorsement NOT Cover?
It is important to notice that water backup coverage does not include the cost to repair or replace the malfunctioning sump pump. Consequently, the homeowner will be responsible for hiring a plumber and paying for a sump pump installation, which can range from $490 to $1,170 on average.
Loss of Use coverage is also not included in standard homeowners' insurance policies. However, it may be added. This coverage is useful when a sump pump failure makes the home unlivable—a rare but possible occurrence. Living in a hotel while the home is under repair, for instance, would be covered.
What Are Ways to Prevent Sump Pump Failures?
Water backups into the home are preventable. Steps to preserve a dry home include installing a generator to deliver power during an electrical outage, especially when installing a backup sump pump is not feasible. Those who live in rainy geographic regions should install a second pump.
Installing window well coverings will help prevent rainwater from leaking inside through the basement windows. Spring and autumn gutter maintenance prevents blocked and overflowing gutters. Lastly, the yard should slope away from the home, rather than direct water toward the foundation.
Call Professionals
Despite efforts to prevent water damage, water can still seep into the interior and cause a range of structural issues. Walls, floors, and ceilings are adversely affected when water damage strikes. When water intrusion occurs, consult  water damage cleanup professionals.
Water damage is notorious for spreading quickly, which is why it is critical to call a reputable flood damage restoration expert immediately. Professional crews arrive promptly onsite, assess the damage, create a restoration plan, and begin restoration work.
The efficient processes include excess moisture and water extraction before it has a chance to destroy other materials. Strategically positioning powerful dehumidifiers throughout the vicinity will also help to draw out moisture. Cleaning, sanitizing, deodorizing the property, and applying microbial agents will help prevent mold.