Fitness Rubber Flooring FAQ
Fitness flooring needs to be sturdy, resilient, and safe in order to create a comfortable, high-performing, and risk-free workout environment. These requirements make rubber flooring the perfect choice for a fitness facility – rubber surfaces resist traction and heavy loads, offer excellent shock absorption and great dimensional stability, and safeguard against injuries. What's more, rubber exercise flooring is extremely durable and exceptionally resilient and can easily withstand high traffic and the weight of heavy equipment. It provides a sturdy, slip-resistant, and shock-absorbent workout surface that minimizes the risk of accidents and injuries, ensures high performance, and delivers exuberance to any fitness application.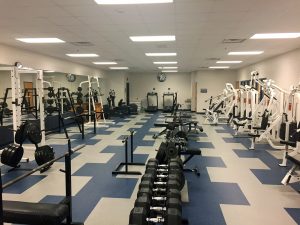 Rubber workout flooring comes in a variety of colors and styles, allows for diverse design options, and can be customized to meet every client's needs and preferences. It's a green, cost-effective flooring solution that can last for decades when properly cared for.
Yet, getting a new exercise floor is a serious project and you have to be sure that you're choosing the right type of flooring for your fitness facility. To be able to make an informed decision, you need to be well informed and well aware of all the little details that can make a big difference when it comes to fitness flooring.
Here are the most frequently asked questions about fitness rubber flooring you need to know the answers for before making your final choice:
1) How to Choose Fitness Flooring?
To get the best flooring solution for your fitness center you must choose the floor based on the activities that will take place in your facility – the workout flooring has to meet the specific requirements and/or standards for the type of activities that will be performed on it (resilience, traction, impact and vibration absorption, noise absorption, etc.).
Rubber Flooring Characteristics
Rubber fitness flooring is among the safest, longest lasting, and best-performing flooring options for a workout room. It offers:
Natural resilience and shock absorption – The resilient rubber surface feels soft and comfortable underfoot, helps reduce fatigue and foot injury, and absorbs even the most violent impact;
Resistance to heavy load – Due to its resilience and high density, rubber flooring can withstand thousands of pounds of equipment as well as high impact activity, without bending or breaking;
Great durability – Rubber surfaces are strong, tough, and long-lasting – they're hard to gouge, scuff, or scratch, so they look good and perform great for many years;
Water resistance – Rubber products are resistant to moisture, which makes them invulnerable to mold and mildew;
Slip resistance – Rubber provides a good grip, so rubber flooring is non-slip and helps reduce the number of slip and fall accidents;
Safety – The soft and resilient rubber covering provides excellent protection and allows for superb shock-absorption and cushioning. It is one of the safest sports flooring options available on the market;
Sound absorption – Rubber has the inherent ability to absorb sound and muffle the ambient noise, improving the efficiency and comfort of the workout environment.
Types of Rubber Flooring
When it comes to fitness room flooring, there are two main types of rubber flooring products to choose from – tiles and rolls.
Rubber floor tiles – Extremely versatile and convenient, rubber tiles are:
Easy to install – Rubber floor tiles have interlocking edges that click together like puzzle pieces. They do not require any glue or other adhesives and can be quickly and easily put into place by anyone;
Easily customizable – Rubber tiles are very supple and can be cut into different shapes of varying sizes in order to perfectly fit the layout of the room or create unique patterns within the floor surface;
Easily replaceable – If a rubber tile is damaged, it can be removed and replaced without compromising the integrity or quality of the flooring.
Rubber floor rolls – Cost-efficient and large in size, rubber rolls are ideal for covering bigger areas – they create fewer seams than rubber tiles and can be custom cut, allowing you to purchase just the amount you need. Rubber rolls however are very heavy and much more difficult to install than interlocking rubber tiles.
Rubber Flooring Thickness
Another important decision you need to make when choosing workout flooring is the degree of rubber thickness you want for your new fitness floor. The thicker the rubber, the longer the flooring will last, the softer it will be, and the better cushioning, shock absorption, and sound absorption it will provide. Yet, the cost of the rubber floor will be higher as well.
Thin rubber flooring (3/8" to 1/2") can hold up to bodyweight exercises, light dumbbells, etc. Medium thickness (1/2" to 3/4") is suitable for commercial gyms, CrossFit, powerlifting, etc.
As a rule of thumb, busy training facilities need thicker flooring as it provides greater durability and resistance to wear and tear. Weight training and other "power sports" require greater rubber thickness, as the floor has to be sturdy, durable, and dense enough to withstand the high impact activity without bending or breaking. Fitness centers that house heavy equipment also need thicker rubber flooring that can hold the extra weight.
Rubber Flooring Styles and Colors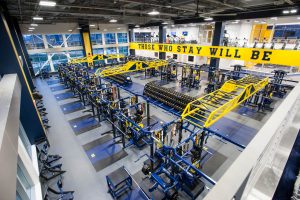 Last but not least, you will want to choose a flooring design that will look great in your fitness facility.
With the amazing array of rubber flooring colors and styles available on the market, it won't be difficult to find a design that complements your facility's interior décor and matches your artistic vision – all kinds of colors and patterns can be printed onto rubber products during the manufacturing process, so the options are virtually  limitless.
All rubber flooring products are available in pure black 100% recycled rubber and a wide range of vibrant color blends in varying intensity – you can opt for complex patterns mimicking natural stone or wood, impressive dimensional effects that add a lot of visual interest to the space, custom color mixtures that match the rest of the interior décor, etc.  You can also have images and logos printed on the flooring – the choice is yours.
At KieferUSA, we offer a great variety of rubber flooring options to suit every need and style. All our products are made of the top-quality materials and ensure safety, comfort, and high performance. Each flooring type, however, is designed for a specific application and has its own specific advantages. If you're not sure what type of rubber flooring is best for your fitness facility, contact us at (800) 322-5448 for more information and advice. Our customer service team has the rich experience and professional knowledge to answer all your questions, help you narrow down your search, and choose the right rubber flooring product for your project.
2) Is Rubber Flooring Eco-Friendly?
With the ever growing green trend in our society, eco-friendliness becomes a more and more important concern – especially in facilities like fitness centers that are meant to boost health and improve life.
Rubber flooring offers a green flooring solution, both in terms of the flooring product and the installation process:
Natural rubber is a rapidly renewable raw material;
Most rubber flooring products are made from recycled materials (usually from old car tires);
Rubber flooring products have low volatile organic compound (VOC) emissions;
Rubber floors that are FloorScore® certified are guaranteed to meet strict indoor air quality requirements and meet the criteria for LEED credits;
Click-together rubber tiles can be installed without any adhesives which makes the flooring 100% recyclable and prevents any off-gassing from the adhesives;
The durability and long life-cycle of rubber flooring reduces the need for frequent replacement and helps preserve natural resources;
Rubber flooring can be fully recycled at the end of its life.
All rubber flooring products offered by KieferUSA have FloorScore® certification and meet the applicable LEED requirements.
3) Does Rubber Flooring Smell?
Rubber has a natural "rubbery" smell. Some rubber flooring products smell stronger than others, depending on the type of raw material used and how the flooring was made – virgin rubber products smell a bit more than recycled rubber products but the odor usually disappears with time.
The smell is the strongest immediately after installation, but once the floor has had the opportunity to air out, the rubber scent fades and becomes indiscernible.
If you're concerned about the rubber smell, make sure you:
choose flooring products that have proven to lose their smell over time or that are infused with artificial scents to help alleviate the rubber smell;
let the rubber flooring air out for several weeks after installation (ensure good ventilation and airflow);
wash the floor with a mild soap and water cleaning solution to reduce the smell;
consider sealing the flooring.
Most rubber flooring options offered by KieferUSA lose their rubber scent over time.
4) What Is the Price Range of Rubber Flooring?
Rubber flooring ranges in price from as low as $1 to over $15 per square foot. The cost depends on many factors – the type of rubber flooring you choose, the thickness of the rubber, the style you want, etc.
5) How to Get a Sample of a Rubber Flooring Product?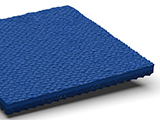 Choosing rubber flooring online is a bit difficult – a physical sample is extremely useful for any customer. Therefore, all reputable sports flooring providers give samples of their flooring products to help clients make an informed choice about their project.
Most samples are credit card sized for ease of shipping, but larger pieces are also available upon request (with additional shipping charges).
KieferUSA provides free samples, so that you can see how different types of products will actually look in your facility. You can request a sample of any of our products by filling out a form online.
6) How to Place an Order?
You can place an order online or by phone – contact the experts at KieferUSA at https://www.kieferusa.com/contact-us/ or give us a call at (800) 322-5448. Our sales representatives will walk you through the process and help you figure out how much material you need – you can fax or email the measurements of your fitness room and we will do the math for you. There's no minimum order – you can request any amount you need.
Your order will be processed on the same day we receive it.
7) Over What Surfaces Can the Flooring Be Installed?
Rubber flooring must be installed over a flat, even surface (perfectly clean and dry, of course), such as a PVC, wooden, concrete, or mortar subfloor. It is not a good idea to install rubber flooring over carpet, even though it is possible to do so if the carpet is short, dense, and low-pile.
---
Good to remember: It is best to install rubber workout room flooring over a hard surface like wood or concrete.
---
8) Who Will Install the Flooring?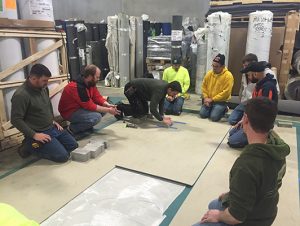 Rubber flooring is easy to install and you can do it yourself – especially if you have opted for interlocking tiles. Yet, you're strongly advised to use professional installation services – particularly for rubber rolls – for optimal results.
At KieferUSA, we'll be happy to help you with the installation of your new exercise room flooring. We have the necessary certification, rich experience, specialized equipment, and technical know-how to do the job in a quick and efficient manner. Your fitness rubber flooring will look and perform great.
9) What Warranty Does Rubber Flooring Have?
Most rubber flooring products come with a full 2-year warranty. Make sure you check the specific warranty terms and conditions for your chosen rubber flooring with the flooring provider.
10) How to Care for Rubber Fitness Flooring?
One of the greatest benefits of rubber workout flooring is that it requires very little maintenance.
Rubber is resistant to chemicals and staining agents (so there are very few products that can mar or discolor a rubber surface), water-resistant, and resilient to mold. This makes cleaning quite easy – damp mopping is enough to keep your rubber fitness floor in pristine condition. It is a good idea to use a vacuum or brush to remove dust and dirt from the rubber surface before mopping.
---
Good to remember:
Your new fitness flooring has to be thoroughly cleaned after installation to remove the protective silicon layer from the rubber flooring products;
Workout floors need daily cleaning, so be sure to mop the rubber flooring in your fitness facility every evening, after the activities are over. Proper daily maintenance helps ensure optimal performance and long life for the product;
More in-depth cleaning (with a PH neutral cleaner diluted with water) must be done at least twice a year (preferably every three months) to remove persistent dirt that accumulates over time;
Rubber flooring can be spot-cleaned when necessary to remove tough stains from certain areas;
Make sure you use a pH neutral cleaner as strong detergents and abrasive cleaning liquids can be very harmful to the rubber surface. Any remaining moisture must be immediately extracted after cleaning.
---
If you have any other questions about rubber exercise flooring, do not hesitate to contact KieferUSA for more detailed information and customer support. We'll be glad to help you.
————————————
Guest post by KieferUSA