Chimney Sweeping – Do I Need to Sweep My Gas Fireplace?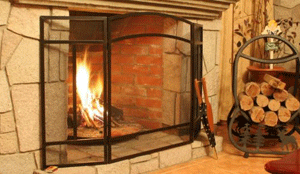 Chimney sweeping is needed to be performed when the smoke cools and forms a resin. This resin is called creosote, which is formed in the inside walls of the fireplace and the chimney flue. You might see soot build up from natural gas on the gas logs or the firebox. This buildup can be swept off with a soft bristle paint brush.
Seldom does soot get into the smoke chamber or flue where it needs sweeping. I have seen some cases where it has, although these are very rare. Any amount of creosote is combustible. You should call a certified chimney sweep to inspect your chimney. He will tell you if chimney sweep is required and what other things need's to be done.
Chimney sweeping true stories
I received a call from a man saying he would start his gas log fireplace and the CO alarm would sound off. Upon inspection I found a squirrel's nest half way down the flue. It was blocking the flues ability to remove the products of combustion, carbon monoxide, to the outside atmosphere. Also there is the potential for heat to reach the right conditions for a flue-fire to occur. A blockage removal was performed. Afterwards, a chimney cover was installed to prevent a future occurrence. Now the chimney is functioning properly.
In another situation, spider built up webs in a factory built chimney  stopped the function of the chimney. A sweep on the flue system was performed, which returned the chimney to function as the manufacturer intended. Customers were thankful that no harm had come to them or their homes.
National Fire Protection Act 211 states chimneys, fireplaces, and vents shall be inspected annually by a qualified agency.  I recommend calling one with a certified chimney sweep.
Robert Hoegner
President
RMR Chimney Sweep Chicago
www.rmrchimneysweeps.com
2150 Touhy Avenue
Elk Grove Village, IL. 60007