281-916-1699
Even on a nice day, a severe storm can form out of nowhere and if your property is not already prepared to handle a storm, you may experience severe damage. The Southern Texas area gets its fair share of severe weather, whether it be a thunderstorm, flood, wind, tropical storm, or tornado, and even the best prepared homes and buildings can be damaged in a storm. ServiceMaster Bay Area provides storm damage restoration services in League City, TX to stabilize and repair homes and buildings that have been heavily damaged by a storm. We provide a fast response to help limit the damage and get your building stabilized as quickly as possible.
Homeowners in storm prone areas should always have their property prepared in case a storm forms suddenly on a nice day. League City, TX is right off the Gulf Coast and experiences a variety of severe weather conditions including wind, rain, floods, and even tropical storms and tornadoes. These storms can cause a range of problems including water damage, mold growth, structural issues, and damage to the exterior of your home. Our technicians react quickly to get your home or building stabilized and begin the repair work for the resulting damage.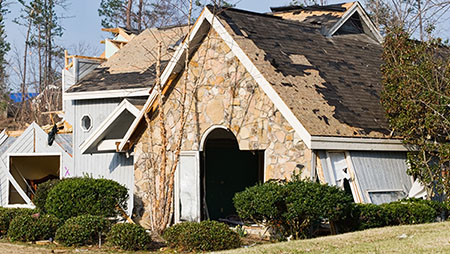 Wind Damage Repair
The wind is perhaps the most destructive element of a storm and the winds coming off the Gulf Coast can be quite dangerous. Strong winds are a threat to damage the roofing, gutters, windows, and siding of a home as well as blow over heavy objects including trees and utility poles which can cause additional damage to buildings and vehicles. If your home or building is affected by wind damage, we can help repair and restore your property with the following process:
Removal of natural debris such as trees, shrubs, and branches
Removal of glass, siding, and other debris from building materials
Tarping and board up services to stabilize the building
Repair of the damage caused by the wind or storm
Residents in the League City, TX area should always be aware of the threat of a storm and protect their property to minimize the potential damage. If you experience storm damage on your property, do not hesitate to contact ServiceMaster Bay Area for storm damage repair services. Our technicians will minimize the damage by stabilizing your building and we will also repair the building and clear your property of any debris. Our phone lines are open 24 hours a day at (281) 916-1699 to provide emergency storm damage services in League City, TX.