Mold can be a significant problem for residential and commercial property owners alike because of the constant presence of mold spores in the air. All mold needs in order to grow is an environment containing an organic food source and excess moisture, which can be relatively common in League City, TX. Once it does start to grow, it can result in damaged property and significant health complications. At ServiceMaster Bay Area, we work to eliminate and prevent the growth of mold through our mold remediation services. We utilize specialized equipment and techniques to locate all sources of mold on your property and address them.
More on Mold Growth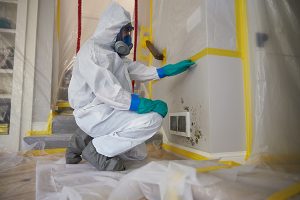 One of the primary reasons that mold can grow so easily in homes and commercial buildings is the fact that these structures are often constructed with wood, drywall, and other materials that contain cellulose (a food source for mold). This means that excess moisture is the final ingredient necessary for mold to take hold and grow. If this growth is not addressed promptly, it can spread to other areas of your property, continue to eat away at affected surfaces, and result in a number of complications. A few of the most significant effects include:
Damaged structural elements
Health complications for those exposed (e.g. allergies, skin irritation, coughing, asthma attacks, respiratory infections, etc.)
Permanently damaged personal items
Mold Remediation Services
At ServiceMaster Bay Area, we offer the services of talented technicians who are specifically trained to remove mold in a swift and effective manner. Through the use of specialized equipment, we will locate all cases of hidden mold growth, and proceed to eliminate them. We will also prevent the mold from spreading by containing it and fixing any sources of excess moisture. If mold is growing on your property, we highly encourage you to utilize our services, as attempting to remove the mold improperly can cause the mold to spread its spores.
When you choose to utilize our mold removal services, you can expect the following:
The identification of all sources of mold growth
Containment of the mold to prevent it from spreading while we work
Elimination of excess moisture
The effective removal of mold by utilizing specialized equipment and procedures
Sealing of porous surfaces to prevent the mold from returning in the future
Fixing of any problems that result in excess moisture on your property
Finding mold on your property is never an enjoyable experience, as the effects to your building, belongings, and health can be significant. This is why we encourage you to take immediate action by contacting our ServiceMaster Bay Area representatives as soon as you discover mold growth. Through our mold remediation services, we will eliminate mold, and return your property to a safe and sanitary condition. We can be reached at (281) 916-1699 and are proud to service property owners in League City, TX.