ServiceMaster Bay Area is a leading provider of flood damage restoration services in League City, TX. As unfortunate as it is to say, residents of this area are uniquely familiar with floods. How quickly they can spread, and the levels of devastation they can cause, are both ideas that hit painfully close to home. Over the years, we have done everything we can to help residents recover from tragic flooding events, and we will continue to do so into the future. Whether you suffer from a major storm or hurricane, or something relatively less-severe like a plumbing leak or burst pipe, we will remove the excess water and moisture from your property and restore affected areas.
Understanding Flood Damage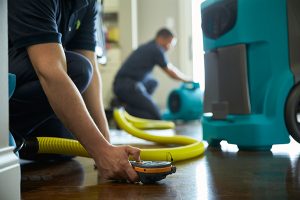 Hurricane Harvey was a major reminder of what can happen in a worst-case scenario. While historically it may just be one of a number of large storms to strike, it was exceptional in just how long it managed to sit over the greater Houston, TX, area. The sheer amount of water that rained down was unprecedented and led to major flooding. The results were devastating, as innumerable homes and commercial buildings were destroyed, and precious personal belongings were lost forever.
Not every instance of flood damage will be on as large of a scale as a hurricane, but the effect to your property can be similar if you fail to act swiftly. Excess water can penetrate porous building materials (such as drywall, wood, insulation, flooring, etc.) to cause buckling, swelling, and discoloration. As these building elements are weakened, the structural integrity of your property is put at risk, permanent damage becomes a significant concern, and the possibility of mold growth substantially increases. Only a timely and effective response can mitigate the damage.
Responding to Floods
At ServiceMaster Bay Area, our technicians will respond immediately to contain affected areas, develop a customized flood damage restoration plan, and begin the restoration process. Our comprehensive approach can be broken down as follows:
Initial Assessment: We quickly determine the levels of damage incurred and develop an appropriate restoration plan.
Water Extraction: We set up and utilize state-of-the-art water extraction equipment to remove standing water.
In-Depth Drying: We make use of advanced drying equipment to dehumidify affected areas and extract excess moisture.
Deodorization: We remove the unpleasant, musty odor associated with water damage.
Responding to Sewage Backups
Whenever contaminated water, such as sewage, is involved in a water-damage scenario, the risks are even greater. This is because of the various pathogens present in the fluid that can result in infections and diseases. In these cases, our technicians take special measures to ensure your safety. As with our standard services, we will restore affected areas and belongings to the fullest extent possible.
To take advantage of our 24-hour flood damage restoration services, contact our ServiceMaster Bay Area representatives at (281) 916-1699. We respond rapidly to limit the extent of the damage and get you back on your feet as swiftly and effectively as possible. We are proud to service those in need in the League City, TX, area.