Upholstery plays a big part in the look and design of any piece of furniture. If you have bright and clean upholstery, the chairs and couches will look inviting and attractive. Unfortunately, upholstery is usually made of fabric that has a tendency to attract dirt and debris. It can easily get stained, especially if you have a habit of eating or drinking when you sit on upholstered furniture. At ServiceMaster Restoration by Complete, we offer residential and commercial upholstery cleaning services in Franklin Township, NJ.
Residential Upholstery Cleaning Services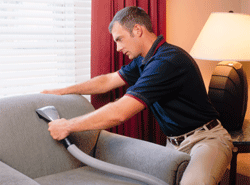 Regular use and infrequent cleaning can cause dust and debris to build up and damage the upholstery fabric. Over time, the fabric can disintegrate because hard soil and some stains can become abrasive and acidic. We use tried and tested techniques to reach the dust and stains embedded deep in the fabric and remove them carefully, without causing any damage to your upholstery.
Our experts use a combination of mild detergent and hot water rather than harsh chemicals to clean the fabric. The extraction process also ensures there's no lingering residue in the fabric to damage it over time. We use the hot water extraction method that has proven to be effective in the past. This method removes all the dust and stains and restores the fabric's appearance. Your upholstery will look as good as new after the extraction because it removes even the deepest embedded dust particles and debris.
Our Upholstery Cleaning Process
We will vacuum the upholstery before we apply pre-treatment on all visible stains
Our experts will use the hot water extraction method to remove the dust and debris.
We'll wash the frame and polish the wood to ensure your furniture looks as good as new.
Commercial Upholstery Cleaning Services
Commercial properties like offices and stores should always be clean and presentable. Your customers wouldn't want to sit on a dirty or stained couch, after all. Our commercial upholstery cleaning services will remove all traces of stains and dirt from the fabric and restore its appearance. This will also extend the upholstery's lifespan so you won't have to replace it as often which will save you some money.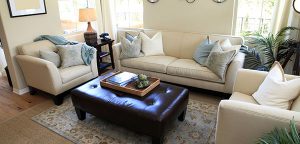 We'll use the hot water extraction method to draw out even the most deeply-embedded dust particles to ensure your upholstery is clean and looks great. This will not only improve the appearance of your furniture, but also improve the overall air quality in your office.
We offer regular cleaning packages to our commercial clients to help them maintain their upholstery and ensure it's always presentable. Regular maintenance will reduce wear and tear and improve the appearance of your office which will have a better impact on all visitors.
Just call us at ServiceMaster Restoration by Complete at (732) 751-4004 if you want thorough and good quality upholstery cleaning services in Franklin Township, NJ. Our experts will arrive at your location promptly and make sure your furniture looks as good as new.
---
Recent Reviews
Review by

Shayon M.
for
Disaster Restoration
Rating

"The project manager and his team were very efficient and knowledgeable. Quick turnaround on all the issues we had at home."
---
Review by

Daniel C.
for
Disaster Restoration
Rating

"Work was excellent. Your people are very hardworking and conscience. I am very satisfied and would certainly recommend service master to friend and neighbors"
---
Review by

Valarie B.
for
Disaster Restoration
Rating

"All who worked did a great job, but there was a lack of communication between the various parties (insurance companies, condo association) about what work needed to be done to address the situation. The carpet was never removed. I'm not sure why."
---
ServiceMaster Restoration by Complete Reviews
Review us on Google