Hard flooring is durable and relatively easy to maintain which is why most people forget that it requires a little bit of care as well. While these surfaces are quite resilient, they are also prone to stains, damage, and wear and tear. That's especially true in areas that experience high foot traffic. Any lingering dust and debris on the surface can cause problems like scratches and small dents. At ServiceMaster Restoration by Complete, we use the latest cleaning methods to provide hard surface floor cleaning services in Franklin Township, NJ.
Residential Hard Surface Floor Cleaning Services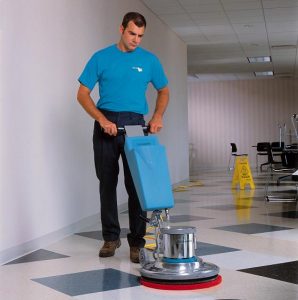 Hard flooring materials like wood, tile, laminate, vinyl, and even concrete are very popular because they're easy to clean and maintain. You can sweep and vacuum regularly and mop them occasionally to keep the floor clean. However, you will notice that even with regular maintenance, the floor becomes dull and stained over time. You need deep hard surface floor cleaning to remove debris and accumulated dirt from all crevices and pores in the surface.
Wood is particularly susceptible to dirt buildup and can become dull within a few years after installation. We will use the latest floor cleaning techniques to remove all traces of dirt and debris from the surface and restore your floor's appearance and finish. Our experts will only use solutions and advanced cleaning equipment that won't damage your floor.
What Can You Expect from Our Floor Cleaning Service?
We will clean floors to ensure they look great and have a new shine to them.
You can expect less wear and tear because dust particles won't have the chance to settle in or damage the floor.
We'll also remove any minor surface damage so your floor will be free of scuff marks, scratches, and other such problems.
Our hard floor cleaning services will ensure a long-lasting finish.
Commercial Hard Surface Floor Cleaning Services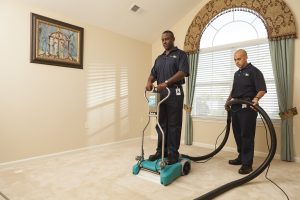 Hard floor surfaces are ideal for commercial areas because they can endure high foot traffic without sustaining much damage. However, if you want to preserve its look and ensure your floor remains clean, you need to maintain it well. We use tried and tested techniques along with advanced cleaning equipment to ensure your floor always stays in good condition.
We adapt our cleaning methods based on the type of flooring you have; we know how to effectively clean wood, marble, vinyl, quarry, ceramic, or tile flooring without causing it any damage.
Benefits of Regular Floor Cleaning
We use safe and tested methods to clean your floors.
Regular cleaning will ensure your floor is more slip-resistant and safe to walk on.
It will be more attractive with a clean and reflective shine.
Your floor will also have a longer lifespan so you won't have to refinish or replace it too often.
If you want to hire our experts here at ServiceMaster Restoration by Complete, just give us a call at (732) 751-4004. You can be certain you'll get the best hard surface floor cleaning services in Franklin Township, NJ from us so don't hesitate to contact us.
---
Recent Reviews
Review by

Shayon M.
for
Disaster Restoration
Rating

"The project manager and his team were very efficient and knowledgeable. Quick turnaround on all the issues we had at home."
---
Review by

Daniel C.
for
Disaster Restoration
Rating

"Work was excellent. Your people are very hardworking and conscience. I am very satisfied and would certainly recommend service master to friend and neighbors"
---
Review by

Valarie B.
for
Disaster Restoration
Rating

"All who worked did a great job, but there was a lack of communication between the various parties (insurance companies, condo association) about what work needed to be done to address the situation. The carpet was never removed. I'm not sure why."
---
ServiceMaster Restoration by Complete Reviews
Review us on Google