ServiceMaster Restoration by Complete
(732) 751-4004
A mold removal situation can become very serious very fast. It can cause damage to your property, health issues, and strange odors. When it meets conditions that include some sort of food source and moisture, that is when mold forms. This can happen in almost any room in the house and can spread rapidly. ServiceMaster Restoration by Complete offers mold remediation services in Franklin Township, NJ to keep your home mold free. Our mold removal services are offered to contain the contaminated areas and remove the mold with our top-of-the-line equipment. We arrive at your home or office within 1-2 hours after you have contacted us.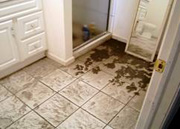 It is common for moisture to be the primary trigger of mold growth. Therefore, if you have recently had water damage, it is likely that mold removal will be necessary as well. Cellulose, a material found in drywall, is the main food source, so mold will spread rapidly in your home. If left untreated for a long period of time, mold can cause significant permanent structural damage. Without immediate treatment, mold can lead to occupants having breathing issues, allergies, and other negative health effects. Our technicians will remove all mold using our state-of-the-art cleaning supplies, top-of-the-line equipment, and cleaning techniques. We will also provide testing and analysis through our nationally recognized testing facility.
The Mold Remediation Process in 5 Simple Steps
We will assess the damaged area and test for any hidden mold.
Report our results to your insurance company.
Isolate all mold to protect the remaining unaffected areas.
Choose the best method to restore the affected area and remove all mold.
Complete the chosen method and restore the affected area.
Without immediate treatment, mold will spread through your home or office. If you have found mold in your home or building, be sure to call ServiceMaster Restoration by Complete in Franklin Township, NJ for mold remediation services. We are available 24 hours a day, 365 days a year at (732) 751-4004. We will arrive within 1-2 hours of your call to contain the mold in your home!
---
Recent Reviews
Review by

Shayon M.
for
Disaster Restoration
Rating

"The project manager and his team were very efficient and knowledgeable. Quick turnaround on all the issues we had at home."
---
Review by

Daniel C.
for
Disaster Restoration
Rating

"Work was excellent. Your people are very hardworking and conscience. I am very satisfied and would certainly recommend service master to friend and neighbors"
---
Review by

Valarie B.
for
Disaster Restoration
Rating

"All who worked did a great job, but there was a lack of communication between the various parties (insurance companies, condo association) about what work needed to be done to address the situation. The carpet was never removed. I'm not sure why."
---
ServiceMaster Restoration by Complete Reviews
Review us on Google