ServiceMaster Restoration by Complete
If you know someone who is affected by hoarding and would like to help, it is important to understand what is at the root of hoarding behaviors. Hoarding is a mental disorder in which those affected suffer from extreme anxiety. This level of stress makes it difficult for affected individuals to throw away anything, leading to a dangerous buildup of clutter in the home. If you reach out to help a hoarder, you must understand that anxiety is what causes these behaviors and help the individual realize that their behaviors are endangering their health and safety. ServiceMaster Restoration by Complete provides hoarding cleaning services in Franklin Township, NJ to help remove hoarded objects and restore safe conditions in the home. Our technicians start by establishing a personal connection with the individual and earning their trust before proceeding with the cleaning process.
Dangers of Hoarding
Common hoarding behaviors can make a home dangerous and unsanitary because excessive clutter creates trip hazards, increases fire risks, and allows for the development of mold or bacteria. Too much clutter in the home can make escaping during an emergency like a fire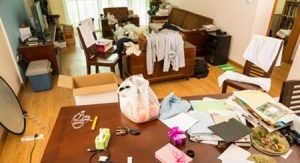 difficult or impossible, adding another level of danger to the situation. If you have a friend or family member that struggles with hoarding issues, it is important to reach out to them for help right away. You must take a delicate approach because of the nature of the situation and help the hoarder understand that their behaviors have created dangerous living conditions that need to be addressed.
At ServiceMaster Restoration by Complete, we have effective equipment and cleaning products to effectively clean and restore homes affected by hoarding. Our technicians will help remove much of the hoarded objects from the home and restore safe living conditions with thorough cleaning and disinfection.
The following steps are included with our hoarding cleaning services:
Saving of valuables and important personal items
Thorough removal of unwanted hoarded objects
Unwanted items are disposed of, recycled, or donated
Distribution of kept items to family and friends
Assistance with paperwork from government agencies, lawyers, and trusts
3 Phase Hoarding Cleaning Approach
It is important to reach out to a hoarder before the condition of their home becomes too dangerous, but you must approach with a sense of compassion. The affected individual must understand that those providing help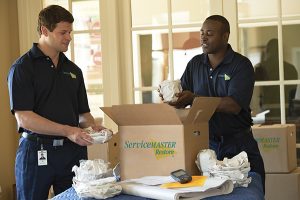 are doing so out of genuine respect and concern for their safety. We understand the importance of how to approach a hoarder and our technicians make sure to establish mutual feelings of trust and respect before starting the cleaning process. This approach is divided into three phases:
Phase 1: Establishing a Personal Connection
Our technicians get an initial assessment of the home before entering.
We establish mutual feelings of trust and respect with the individual and then discuss their living conditions and how they can be improved. This is the time to enlist the help of a counseling professional if needed.
We will move on with the process only if the individual is willing.
Phase 2: Creating a Cleaning Plan
We form a cleaning plan with the help of the individual and their family that is focused on creating safer living conditions.
We will help remove all unwanted hoarded items and then clean and disinfect the home. We will also rearrange the remaining items.
We give the final decision on each hoarded object to the affected individual.
Phase 3: Follow Up
A maintenance plan is formed to help the individual keep their home clean after our services.
We will make a phone call to the individual to follow up on the maintenance plan. If the home has become cluttered again, our technicians will return.
Any situation involving hoarding must be dealt with delicately, but also with a sense of urgency because of the dangerous conditions hoarding creates. If you have a friend or family member that is affected by hoarding in the Franklin Township, NJ area, our technicians at ServiceMaster Restoration by Complete can help reach out to the hoarder and initiate the cleaning process. You can call us at (732)751-4004 for professional hoarding cleaning services. We are available 24/7.
---
Recent Reviews
Review by

Shayon M.
for
Disaster Restoration
Rating

"The project manager and his team were very efficient and knowledgeable. Quick turnaround on all the issues we had at home."
---
Review by

Daniel C.
for
Disaster Restoration
Rating

"Work was excellent. Your people are very hardworking and conscience. I am very satisfied and would certainly recommend service master to friend and neighbors"
---
Review by

Valarie B.
for
Disaster Restoration
Rating

"All who worked did a great job, but there was a lack of communication between the various parties (insurance companies, condo association) about what work needed to be done to address the situation. The carpet was never removed. I'm not sure why."
---
ServiceMaster Restoration by Complete Reviews
Review us on Google