RestorationMaster
At RestorationMaster, we offer complete hoarding cleaning services to homes and businesses in the Bakersfield, CA, area. We understand that the effects of hoarding can lead to serious injury and even death if left unaddressed.
Through effective and compassionate services, we help people struggling with compulsive hoarding disorder learn to maintain a sanitary living space and clean out their property.
The Complexities of Hoarding
Hoarding situations are so often extreme because those affected suffer from a disorder that causes extreme fear and anxiety when they attempt to throw things away. This condition also makes it hard for the affected individuals to ask for help. Family and friends should be respectful when they confront hoarders for the best chance of getting them to change their habits.
Hoarding is dangerous for people living or visiting in the affected property for the following reasons:
Mold and bacteria can grow in unattended areas
Intense fires are more likely to occur because the cluttered items act as fuel
Allergens will build up a dangerous amount
Items can tip and fall on top of people
When disasters occur, blocked exits will cause the avenues of escape will be limited
A great way to start a discussion with the affected individuals is by pointing out these risks. In many cases, people affected by hoarding techniques are more open-minded to having their house cleaned once they understand the danger they are putting themselves and their loved ones in.
Hoarding Cleanup in Bakersfield, CA
Our technicians at RestorationMaster respect the individuals affected by compulsive hoarding and we understand that psychological factors are preventing them from throwing away belongings. We will compassionately help you and your loved ones to decide which items should stay or be thrown away.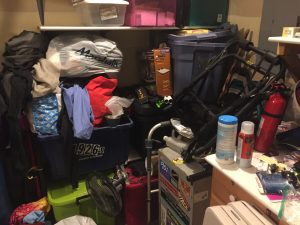 When you can work with us, our professionals will:
Establish trust with the affected individual through dialogue; we will not begin services until we have developed a relationship
Create and implement a cleaning plan that allows the affected individuals to give their input on what items should be kept, thrown away, donated, or recycled
Help with cleaning according to the custom cleaning plan
Provide disinfection services and biohazard cleanup
Perform periodic follow-ups
Contact Us
The consequences of hoarding can be extremely dangerous, which is why we encourage you to call our technicians at RestorationMaster for professional help. Our hoarding cleanup services will help us return your property to a livable condition.
You can reach us at (626) 386-8834 to schedule a free estimate for our hoarding cleanup services in Bakersfield, CA, and the surrounding areas.