RestorationMaster
It is hard to imagine a disaster more terrifying than a fire occurring on your property.  Fires are very dangerous disasters because of the amount of damage they can cause, and they put lives at risk.  If a fire occurs on your property, your only concern should be evacuating the property and ensuring that everyone is safe.  However, once the fire is out, you cannot hesitate to start the restoration of your property because it will sustain further damage.  Remaining smoke, soot, and residue will continue to cause damage that can exceed the amount of damage caused during the fire.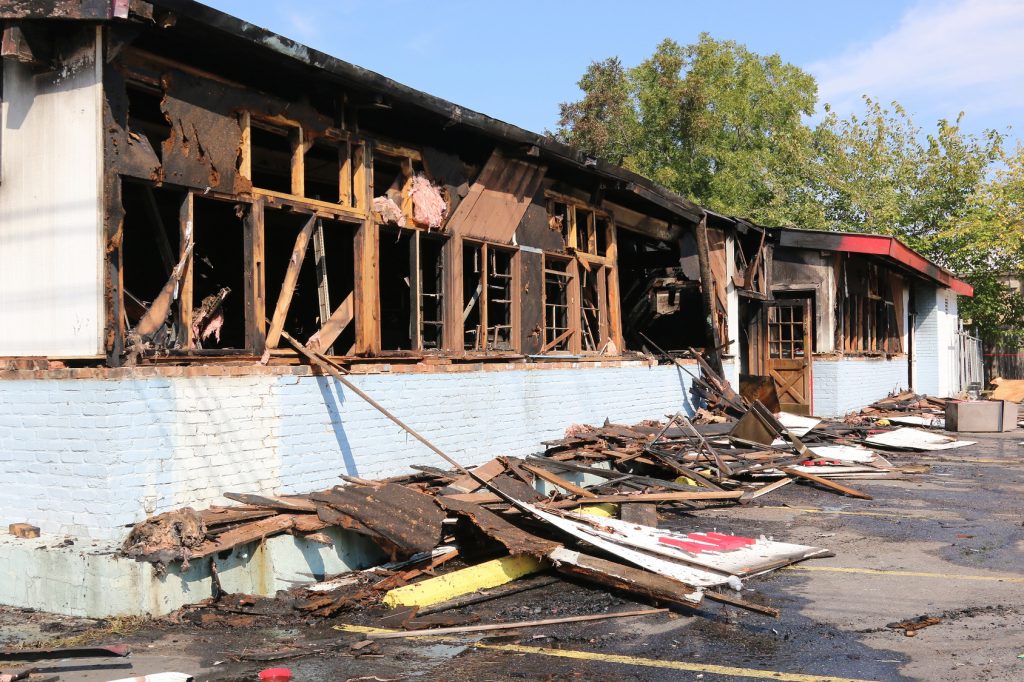 At RestorationMaster, we provide fire damage restoration services to help homes and businesses damaged by a fire in Bakersfield, CA.  Our technicians can handle every aspect of the restoration from repairing the structural damage to cleaning up the effects of smoke and soot.  We will make sure that your property is restored to its original condition after experiencing a fire.
Damage Caused by Fire and Smoke
Every fire within a home or building, even relatively contained fires, results in extensive damage.  This is because the flames cause charring and structural damage and the heat from the fire creates corrosive byproducts like smoke, residue, and soot that add to the damage.
After the fire is out, these corrosive byproducts will continue to spread and settle throughout the property.  Soot and oily residue can cause discoloration and etching on the materials they affect, and the damage of many of these materials will become permanent without quick and proper cleaning.  The lingering smoke will also get absorbed in porous materials and furnishings, causing the odor to hang around.
Fire and Smoke Damage Repair
Our technicians at RestorationMaster can restore any type of damage caused by fire including structural damage, soot damage, and smoke odors. We will start by stabilizing structural damage and pre-cleaning areas affected by smoke and soot to prevent permanent damage.  We use advanced chemical cleaners to remove the effects of smoke and soot from many household surfaces including porcelain, tile, brass, aluminum, chrome, marble, carpeting, and upholstery.
Our fire and smoke damage restoration services include the following steps:
Emergency pre-cleaning
Content cleaning
Wall and ceiling structure cleaning
Water damage restoration from fire hoses
Odor removal
Odor Removal
In situations involving fire, there is more than just physical damage to deal with. Odor particles that are left over after a fire will continue to spread and get trapped in porous materials. This causes the odor to hang around long after the fire is out. Because the odor particles have been absorbed and trapped in porous materials and air spaces, it is very difficult to remove these odors without using advanced techniques and equipment.
Our technicians can remove the smoke odors at their source to ensure that your property is odor-free. Our advanced deodorization techniques will extract the trapped odor particles from the affected materials and air spaces.
Contact us
If your home or business in Bakersfield, CA is affected by a fire, make sure you call our professionals at RestorationMaster as soon as possible after the fire is out.  We will arrive promptly to stabilize structural damage and begin the pre-cleaning process to get your home or building back to its original condition.
You can reach us 24 hours a day at (626) 386-8834 for emergency fire damage restoration or fire and smoke damage repair in Bakersfield, CA.