Of the types of issues that can lead to property damage, excess water and moisture is the most prevalent.  Homes and commercial buildings can experience water damage from weather conditions like rain and flooding as well as plumbing and appliance leaks, sewage backups, burst pipes, and overflows.  You should never hesitate to react to any level of water damage because water quickly spreads by getting absorbed into porous materials.  As affected materials absorb more water, the risk for structural damage and mold growth increases.
ServiceMaster Fire and Water Restoration provides water damage restoration services in Aurora, CO to clean and restore affected homes and commercial buildings.  Our technicians can remove standing water and moisture with advanced equipment and ensure that the affected areas are thoroughly cleaned and restored.
Issues from Water Damage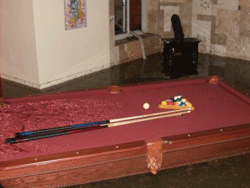 Situations involving excess moisture or flooding can lead to very serious damage, including structural damage, as well as mold growth.  Many objects and materials found in homes and commercial buildings are porous and will absorb excess water and moisture.  This will not only cause these materials to experience warping, discoloration, and structural damage, but also allow the water to spread and cause damage to a larger area.  Building materials and furnishings such as carpeting, flooring, wood, and drywall will quickly absorb moisture which puts them at risk of serious damage.  Mold growth may occur within 48 hours if the water damage is not addressed.
Our technicians at ServiceMaster Fire and Water Restoration will work to limit the damage upon our arrival and do a through assessment of your property.  We will make sure all standing water is removed with our water extraction equipment and we can also extract moisture from the damaged materials with strategically placed dehumidification equipment.
You can expect the following from our water damage restoration specialists:
Initial Assessment: We start by assessing the damage to your property and locating the source of the water or moisture. We will then form and implement a restoration plan based on our assessment.
Advanced Equipment: Our water extraction and dehumidification are the best available and will completely remove standing water as well as excess moisture.
Thorough Drying: Our specialized dehumidifiers and drying equipment will remove moisture from furnishings, building materials and air spaces.
Deodorization: Any lingering musty odors from the flooding or mold growth will be removed with our deodorization process.
If you experience any level of water damage in your home or building in Aurora, CO, make sure you call our experts at ServiceMaster Fire and Water Restoration immediately for water damage restoration services.  We can quickly limit and remove the water from your property, and we will make sure the damaged areas have been effectively restored.  We can also work with your insurance company to help file your claim.
You can call us 24 hours a day at (303) 800-3404 for emergency water damage restoration.
---
Recent Reviews
Review by

Tjty James
Rating

"Cassie and her crews were incredible. She truly made me feel like the patient who finally meets the doctor who can cure his or her ailment. She was prompt, knowledgeable, friendly and professional. Servicemaster is very fortunate to have such a wonderful employee.!"