Hoarding was once thought of as a bad habit but the mental disorder that is behind hoarding behaviors is much better understood now which means that those that struggle with hoarding issues can get more effective help. Hoarding behaviors are symptoms of more complex anxiety disorders that manifest as an inability to throw anything away and the collection of hoarded items can create dangerous and unsanitary living conditions. ServiceMaster Fire and Water Restoration provides hoarding cleaning services in Aurora, CO to clean and restore homes to a safe living condition. We will completely remove the hoarded items as well as clean up any mold or bacteria.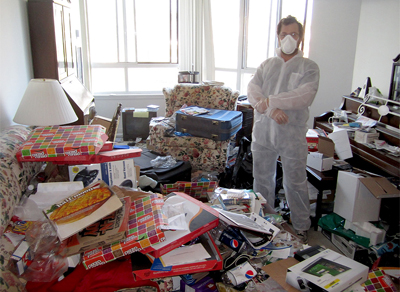 Reliable Hoarding Cleaning Services
Individuals that struggle with hoarding tend to collect anything from paper products, newspapers, food containers, and trash to animals in more extreme cases. As the hoard of items builds, it can create dangerous conditions by blocking access from parts of the home and mold and other bacteria may form within the hoard to make the home unsanitary. Our technicians have the training and experience to remove hoarded items as well as clean and sanitize the home if biohazard materials are found in the hoard. We also take a respectful approach to earn the trust of the individual and make sure to involve the person in the cleanup process to help decide what items get kept or discarded.
The hoarding cleaning process is done within the rules and regulations of OSHA, the Department of Transportation, and the EPA and includes these steps:
Decontamination: After the hoarded items are removed, we decontaminate the area and clean up any mold or bacteria.
Odor Removal: We use powerful deodorizers to remove foul lingering odors.
Proper Disposal: We can help decide what should be thrown away and what should be kept and biohazard materials are taken to a licensed facility for safe and proper disposal.
Hoarding is a serious issue because it can lead to unsanitary living conditions that threaten the safety of the individual which makes it important to get help for those that struggle with hoarding. The professionals of ServiceMaster Fire and Water Restoration can help clean out hoarders' homes in Aurora, CO to restore safe living conditions and we establish a feeling of respect with the individual before beginning any cleaning. You can call us 24 hours a day at (303) 800-3404 to learn more about our hoarding cleaning services.
---
Recent Reviews
Review by

Tjty James
Rating

"Cassie and her crews were incredible. She truly made me feel like the patient who finally meets the doctor who can cure his or her ailment. She was prompt, knowledgeable, friendly and professional. Servicemaster is very fortunate to have such a wonderful employee.!"