Carpet Cleaning
Carpet cleaning is generally done through either chemical cleaning (encapsulation) or steam cleaning (hot water extraction). Chemical cleaning uses a liquid or granulated product to encapsulate dirt, which then dries and is vacuumed away. Depending on the cleaning product, the carpet could be ready to walk on immediately or in up to two hours. With steam cleaning, water is forced into the carpet fibers, which loosens dirt and is sucked back out. The floor will be left wet for 6-24 hours, depending on weather conditions.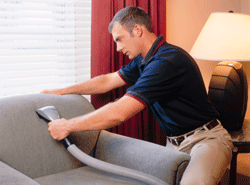 The cleaning professionals at ServiceMaster Fire and Water Restoration are a great resource for intensive carpet and upholstery cleaning in your area in Aurora CO 80011. We offer free estimates and can schedule a convenient cleaning appointment to fit your busy schedule, including Saturdays. Our carpet cleaning services create a healthier indoor environment by removing accumulated dust and allergens.
• Upholstery Cleaning Services
Weekly vacuuming is crucial to maintaining your furniture's appearance. Many modern upholstery fabrics are treated to resist stains, but dust, pet dander, and other airborne particles can become embedded in the fibers. A professional carpet and upholstery cleaning service will extend the life of your home's textiles and keep them looking newer.
The professional technicians at ServiceMaster Fire and Water Restoration are specially trained to clean all types of upholstery from herculon and micro-fiber to Haitian cotton.
• Tile and Grout Cleaning Services
ServiceMaster Fire and Water Restoration uses a high pressure hot water rinse with an enclosed vacuum system to clean tile and grout floors. We also can apply a grout sealer after the clean. This extra layer of protection seals the grout, making it resistant to spills and stains, keeping the tile and grout looking clean. Serving Aurora, Colorado and surrounding areas.
Call ServiceMaster Fire and Water Restoration at (303) 800-3404 to schedule your professional carpet & upholstery cleaning.
---
Recent Reviews
---
Review by Tjty James
Disaster Restoration
Rating

"Cassie and her crews were incredible. She truly made me feel like the patient who finally meets the doctor who can cure his or her ailment. She was prompt, knowledgeable, friendly and professional. Servicemaster is very fortunate to have such a wonderful employee."
---
Review by Courtney Clark
Disaster Restoration
Rating

"Super professional and on time. Recommend them to anyone."
---
Review by Joseph Steffens
Disaster Restoration
Rating

"Was moving out of my home and called ServiceMaster to clean our carpets. They did an amazing job and their technician was very detailed and a true expert! Would highly recommend this company."
---
See All Reviews