ServiceMaster by Timeless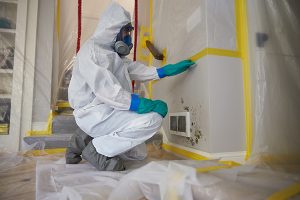 High humidity or excess moisture can cause mold to grow in a home or building and its growth not only causes property damage, but also a range of potential health problems.  ServiceMaster by Timeless can remove mold growth from homes and businesses in Scotch Plains, NJ and repair the damage with our professional mold remediation services.  Our  IICRC-certified mold specialists are available 24 hours a day to respond to your mold removal emergencies.
Mold Remediation in Scotch Plains, NJ
Mold is always a symptom of water damage or moisture so we begin our mold remediation services by testing the home or building for moisture exposure.
With these tests, we can determine the length of time the property has been exposed to moisture, the amount of moisture absorbed, and how deeply it has penetrated.  Once the initial tests are done, our technicians start the mold removal process and they make sure to keep the unaffected areas protected from contamination as they work.
We can effectively remove mold from any home or building using the best cleaning products, methods, and equipment of the industry.
Our mold remediation services in Scotch Plains, NJ include:
Locating and repairing the source of the moisture or leak.
Removal of the mold or surfaces with mold growth.
Protection of the workers, clients, and their property.
Confining the mold growth to the affected area.
Contact Us for Mold Removal in Scotch Plains, NJ
It is important to address mold growth right away because it could cause property damage as well as lead to health implications for those living or working in the building. ServiceMaster by Timeless provides mold removal services to completely remove mold from homes and businesses in Scotch Plains, NJ.  We can be reached 24 hours a day at (973) 685-6117 for all mold removal needs.
---
Recent Reviews
Review by

M.L.
Rating

"Service Master responded to a water incident at my home on a Sunday evening. The company owner even responded to the initial assessment at 11pm. The company completed their tasks in efficient manner and timeframe. The company kept me informed throughout the process and on steps moving toward and working with my insurance company for a final resolution. The team manager, Matt, and owner, Bruce, were noth heavily invested in our project from start to completion."
---
Review by

V.C.
Rating

"We, FNT Solutions Inc., hired ServiceMaster by Timeless for a COVID-19 cleaning/sensitization . They did a great job thoroughly disinfecting our office space in preparation to return back to business. We would recommend ServiceMaster by Timeless to anyone."
---
Review by

A.B.
Rating

"We had a burst pipe and John and his crew were out to the house within a few hours. They immediately assessed the situation and brought in all of the supplies needed to clean up and dry out the basement. Michelle was very professional and responsive, keeping me in the loop with the insurance company and helping me to file my claim. I would highly recommend ServiceMaster by Timeless."