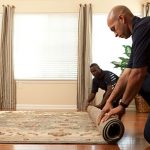 Your carpets take a real beating every day. Foot traffic, spills, and pet accidents take their toll on the fibers, leaving behind stains and odors that shorten the lifespan of your carpet. Protect your investment with regular professional carpet cleanings from Restoration Master. We provide professional carpet cleaning services to the San Diego, CA area to remove embarrassing smells, improve the looks and extend the life of your carpets. We also offer regularly scheduled cleanings, so your carpets always look their best.
We can usually schedule a cleaning within a few days of your call. Our professionals use the latest cleaning techniques and products to safely and completely remove dirt and odor from any type of carpet fabric – even wool and Berber.
Restoration Master's 8 step cleaning process includes:
Inspecting the carpet to determine the best cleaning technique;
Pretreating spots and stains;
Pre-applying shampoo to loosen soil that's deep down;
Rinsing the carpet with hot water;
Post-treating any remaining stains;
Grooming the carpet for optimal drying and appearance;
Placing pads under furniture to protect carpet;
Performing a final inspection with the homeowner to ensure everything is just right.
If you have dirty carpets in the San Diego, CA area, call Restoration Master at 888-915-8868 for a free estimate. We can remove the dirt and stains from your carpets and keep them looking their very best with regularly scheduled cleanings