What It's Like to be a Crime Scene Cleaning Professional?
Cleaning up the mess left behind after a homicide, accident, or suicide requires a significant amount of professional composure. Aside from maintaining a sound state of mind in the midst of a chaotic situation, crime scene cleaning professionals need a measure of practicality.
The role of a crime scene cleanup professional is demanding, both emotionally and physically. These professionals stomach the sight of human remains in a devastating crime scene, yet retain a sense of mental equilibrium, abiding by safety standards to protect their physical health.
When are Crime Scene Cleanups Called In?
The most recognizable events crime scene professionals are summoned to are ones involving major crimes. However, a crime scene cleanup company in the Southeast reports only 30 to 60 percent of their jobs each year are due to homicides. Cleanup crews are mostly dispatched to suicides and unnatural deaths.
Cleaning professionals who specialize in crime scenes also make their wages by cleaning up nuisances, such as meth labs or tear gas, from properties where law enforcement officials have played a role. Sanitizing hoarded homes also makes up a sizeable chunk of work for crime scene cleanup specialists.
Who are the Professionals Behind Crime Scene Cleanups?
Crime scene cleanup experts are known by various professional designations. Trauma scene restoration technicians, biohazard remediation specialists, and crime scene cleanup professionals are just a few monikers that these experts go by. No matter what terms they respond to, these specialists have a professional history of dealing with death.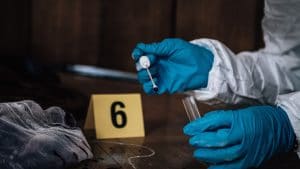 Ex-military personnel, paramedics, and law enforcement officials have stomached instances of death like no average person has, making them fit for the role of a crime scene cleanup specialist. Frequent exposure to death lends them the integrity, focus, and compassion necessary to successfully perform the duties of a cleanup expert.
What Type of Training is Required?
Certification requirements for technicians range from nil to simply being trained in-house at a crime scene cleanup company. Given that most scenes to which responders are called contain blood, training involves blood—pig blood, fake stage blood—as well as realistic, recreated scenes.
Some crime scene cleanup companies require that their trainees undergo extensive training for four weeks, at a minimum, before they are subject to real-world catastrophes. Crews must know how to dismantle floorboards to access human blood when it has seeped from a building's third floor onto the first floor.
What are Tools of the Trade?
Cleaning and sanitizing a space contaminated with human blood, tissue, and bodily fluids requires a lot more than bleach. Specialized cleaners are utilized for crime scene cleanup technicians to do their job well. A powerful version of hydrogen peroxide foams up when the liquid comes into contact with bodily fluids.
Brain fragments, for instance, harden into a rock-like substance, making an enzyme cleaner necessary to soften the tissue and effectively scrape it away. In order to clean up contaminants that drip into lower levels of a structure, technicians must break out the tools of demolition, from crowbars to circular saws.
Safely removing body parts also requires that cleanup professionals wear protective gear onsite. Biohazard suits, respirators, and multiple sets of gloves are critical to prevent exposure to bloodborne and airborne pathogens. Respirators, as some technicians know, do not always fully keep out the smell.
Foul odors that emanate throughout the crime scene are neutralized by ozone machines, HEPA filters, air scrubbers, and hydroxyl generators. Some technicians get used to the smells that accompany a decomposing body that's lain undiscovered for two months, but most find it hard when the odors penetrate through the respirator.
How Much Resilience is Required?
Entering daily into crime scenes to clean up the aftermath of shocking events takes an immense psychological toll on cleanup specialists. Hundreds of employees pass through the doors of cleanup companies, with company owners lasting only about five to ten years max.
Crime scene cleanup must offer compassion, since they are thrown into extremely tense situations. Families of victims need to vent, and crime scene cleanup company owners, especially, are in a position to listen to detailed accounts of the ill-fated circumstances surrounding the tragic event.
Counseling may be a part of the recovery process for victims' families, but crime scene cleanup technicians also resort to therapy. Cleanup companies offer employees counseling sessions upon request. The ability to continuously disengage from work is not always easy for those in the trauma scene restoration profession.
Why is Compassion Important?
Despite being surrounded by gore and grief, many crime scene cleanup specialists feel the reward of being part of the industry. For instance, a family member of the victim might offer a genuine hug to a technician, thanking them for doing a job they could not emotionally bring themselves to do.
When a crime scene cleanup company is necessary, it often means a disaster has struck. Family members and hotel and property owners are often the first ones to contact a crime scene cleanup crew to handle the seemingly impossible task of cleaning a site contaminated by human remains.
What Goes into the Crime Scene Cleaning?
With a team of compassionate trauma scene cleaners, professionals approach each event with care and tact. Their proven processes eliminate all biohazards, which are properly disposed of in approved waste facilities.
The property contaminated by the unfolding of the tragic event undergoes a thorough disinfection and deodorization process to return it to a habitable condition. Crime scene cleaning technicians also work with insurance companies to help policy holders accelerate the claims processes.
Crime scene cleaning crews consist of licensed and experienced technicians who abide by all local and state laws when it comes to restoring trauma scenes. They clean up a wide range of scenes, from suicides to car accidents to unattended deaths.
When trauma scene cleaning becomes necessary, turn to a crime scene cleaning professional for skilled services, and a compassionate team of experienced specialists.