A Few Easy Steps To Clean Your Bathroom Efficiently
In spite of the fact that hygiene and cleanliness are a very essential part of maintaining the bathroom, a surprisingly great number of people just hate discussing   the topic. Bathroom cleaning is one of those things that we either avoid doing, or do  once in a blue moon.  But what most of us do not know is that in fact, most bathrooms are specially designed, so that people can clean them easily. There are some tiles, for instance, which are stain resistant, in case you manage to keep dust and dirt accumulations away.  Here we offer you some simple steps, which will turn this annoying job into a piece of cake.
The Shower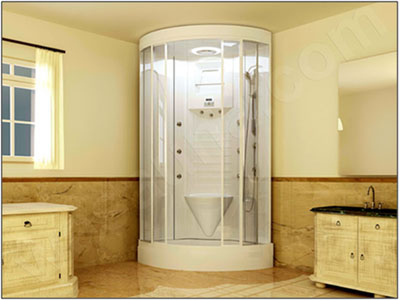 Showers, especially those with glass partitions, can be cleaned quite easily. You can clean the whole shower cabin with a sponge, soaked in a bowl of vinegar. It will not only  make it shiny again, but it will also kill most of the bacteria. It is an affordable and very effective solution.
In order to clean the tiles on the walls, use some hot water. The steam will release the dirt and it will save you a lot of time. Then you can make a solution of ½ cup of vinegar, a cup of ammonia and a tablespoon of baking soda. Spread it with a sponge all over the walls and then rinse again with hot water.
The Toilet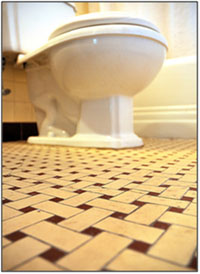 You can either buy some special cleaning detergents (you can find hundreds of them in the local store), or use some bleach. No matter what you choose, you must always wear latex gloves in order to protect your hands.  Also, when cleaning, always be careful not to splash the detergent on some of the other surfaces in the bathroom. These cleaning detergents can release some harmful gases, so make sure you have rinsed everything after you finish.
Tops and Mirrors
The surfaces in your bathroom must are supposed to resist a great number of substances such as hairspray and toothpaste. Usually they are made of very solid, stain resistant materials  – ceramics, marble or the traditional plastic laminate. These materials are both durable and easy for cleaning. For most of them, the  most appropriate solution is wiping with a sponge, soaked in some hot water.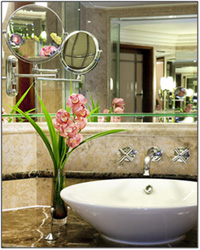 If you notice that some of the surfaces are a bit dirtier, you can use an abrasive sponge and some baking soda. It will help you remove most of the stubborn stains.
On the other hand, if some of the tops in your bathroom are made of marble, you will have to avoid using abrasive sponges, since this material can be easily damaged and in the future it will get even dirtier.
Mirrors are the main accent in your bathroom. It is very important to keep them clean and shiny, since they create the overall impression of the whole place. Again, you can buy some cleaning sprays, or you can make a solution of hot water and vinegar. At the end, use some dry cloth or a paper towel to polish it. It requires neither much time, nor some special efforts.
Author Bio: July Minor is working for http://www.cleantoperfection.co.uk/carpet-cleaning-mill-hill-nw7/. She chose this job because July likes everything to be clean and tidy and really enjoys doing this. In her free time she is a passionate writer and freelance blogger.