How to Get Your House Ready for Sale
Selling your home can be stressful, but that doesn't mean that there aren't plenty of things you can do to help ensure that you catch a buyer's eye and sell on your terms. If you are looking for ways to boost your home's appeal before you put it on the market, then here are some things to consider.
Take Care of the Basics
Before anything else, you need to take care of the basics. This means that it is a good idea to make sure that all major appliances in the home are working properly, and to get them checked by a professional if possible. Not only should you do this for things like your water heater and furnace, but you should also have your plumbing, power transfer switch, and electricity checked out as well. By doing this, you can ensure that all the important components of your home are working well, which will help instill confidence in buyers.
Finish Your Basement
If you have a basement that can be finished, then doing so can be a great option for boosting your home's appeal to buyers. Not only does it allow your home to look more polished, but it can add valuable living space to your home as well. A finished basement can make a great playroom for kids, a home office, a workout room, or a recreational room for everyone to enjoy.
When finishing your basement, it is important to make sure that you add plenty of lighting, as basements typically do not have much or any natural light. Additionally, it can be a good idea to decorate with pale, light colors to give it a more uplifted and spacious feeling.
Update Your Kitchen
The kitchen is often one of the most popular rooms in the home, and because of this, it tends to experience more wear and tear than other rooms might. Also, kitchen design trends tend to change more rapidly than they do for other rooms in the home, which can mean that kitchens can look dated more quickly than other rooms. Because of this, it can be a good idea to take some steps to update your kitchen. For some, this could mean a complete overhaul, including purchasing new appliances. For others, smaller fixes and updates, like new backsplashes or lighting, could be enough to give it a fresh look.
Try New Paint Colors
Something else that can be helpful when it comes to appealing to more buyers is trying out a new color palette. While you may enjoy the colors that you have picked for your home, if they are particularly bold or bright, they could be a turn off to potential buyers. To give your home a more universal appeal, it can be a good idea to opt for a more neutral color palette. Colors like gray, beige and taupe can all be good options, and by using colors like these, you can make it easier for a buyer to envision themselves in the home.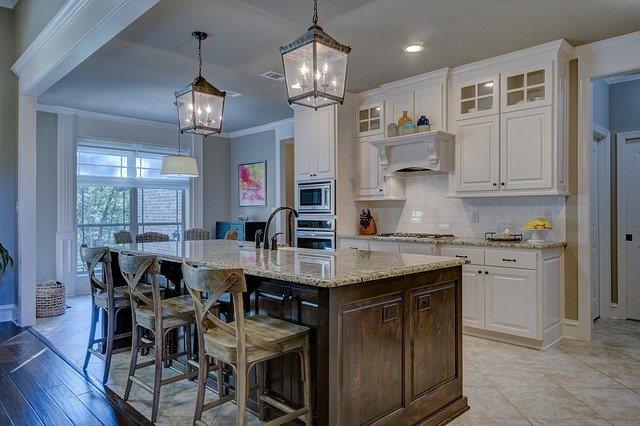 Switch Up Your Lighting
If you want to make your home look more polished overall without having to make any dramatic changes, then it can be a good idea to coordinate the lighting throughout your home. Having consistent lighting helps to make your home look and feel more put together and consistent. Overall, this can give potential buyers the impression that all aspects of the home's decoration were well thought out.
Refresh Your Bathroom
Besides the kitchen, the bathroom is another one of the most highly traveled rooms. Due to this, and the fact that there is lots of exposure to moisture in the bathroom, it can undergo a lot of wear and tear, and need to be fixed up more often than other rooms might. Giving your bathroom a new coat of paint can be a good option, as well as repairing any damage that has been sustained, like a leaking faucet. Additionally, if any appliances like the shower or toilet do not function well, then it can be beneficial to replace those as well.
Fix Up Your Exterior
Even though many may be more focused on the interior of their home, the reality is that the exterior can be just as important when it comes to appealing to buyers. In fact, it can be even more important when it comes to making a good first impression. To make sure that the outside of your home looks its best, it can be a good idea to power wash it, or to freshen up any chipping paint. Additionally, small touches like a new mailbox or some decorations for the front of your home can go a long way towards boosting its appeal.
Post Construction Cleanup
Selling your home can be a stressful process. However, the good news is that there are many things you can do to improve your home's overall look and help ensure that you catch the right buyer's eye.
In addition to the home's repairs and renovation, there is often significant amounts of debris left behind from the project. Everything including screws, sawdust and other remnants from building materials are leftover that will certainly need to be cleaned up before putting your home on the market.
Fortunately, there are local contractors who provide post construction cleanup services that are more than happy to get this done for you. Cleaning up all dirt and debris from the project from the floors, walls, countertops and items can be alleviate a huge headache, especially when trying to sell your home. You have enough things to worry about; allow them to cross this job off the list for you.
Be sure to search around for a reputable post construction cleanup company and check out their reviews before hiring them as the right contractor will show up on time and leave the renovated area spotless in an efficient amount of time.