How to Get Rid of Cigarette Smoke Smell
While the odor created from cigarettes is already ghastly and potent, it can get everywhere: clothes, walls, furniture, carpeting, and other places you wouldn't even expect. Especially for second-hand smokers, they are left to deal with the after-effects, such as adverse health effects, smoke-infested surfaces, and of course, the smell itself.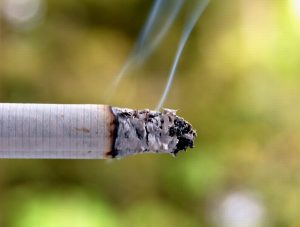 Although the population of smokers has significantly decreased over the years, most families have experienced this wretched smell from at least one loved one. While it is their responsibility to quit (if they are trying), you may be faced with the job of removing it from your property, for the sake of your children, pets, visitors, and even potential clients. Although not an easy job, you can get rid of the cigarette smoke smell using these tips:
Removing Cigarette Smoke Smell from Furniture, Furnishings, Walls, Ceilings, and Upholstery
Carpet. Although the carpet may not hold a lot of dirt and debris, it can easily trap the horrible cigarette odor. To remove it, you can rent a carpet steam cleaner from your local hardware store; however, you must know how to do the job properly to prevent any damage to your carpet. If you are unsure, you can also hire a carpet cleaning professional to do it for you. Just make sure that they are certified professionals and will not harm your carpet in the process.
Couches, Loveseats, and Arm Chairs. You may be surprised at the number of ways baking soda can be used throughout the home. In addition to cooking and baking purposes, you can also use it to remove the smoke odor from all of your furniture. Simply sprinkle it over the surfaces, letting it sit for a day, and then vacuuming it out. You may have to repeat the process for a few weeks until the smell is completely out. Or, you can also hire upholstery cleaning services that will be able to remove the odor in one day.
Walls and Ceilings. While you may not realize it, your walls and ceilings, can actually turn yellow after absorbing cigarette smoke. As the odor will naturally rise, it becomes embedded within the building materials and will lock in the smell, creating a thick residue over time. Thankfully, there are home remedies that can fix this: mix a gallon of warm water, one quarter cup of vinegar, one quarter cup of baking soda, and one half cup of baking soda. Using a soft sponge, apply the solution at the baseboards and work your way upwards toward the ceiling. This should make a significant difference after you are done.
Curtains, shades, and other fixtures with fabric. While they may not contain as much padding as the other furnishings, they will certainly lock in the cigarette smell over time. If you can smell that awful cigarette stench, put the curtains in the washing machine, replace the shades, apply a mixture of water and ammonia to the chandeliers to ensure the smoke is completely gone.
Indoor Air. The horrible smell of cigarette smoke within the home is absolutely the worst. It can feel like you are trapped in it, no matter which room you go in to escape. But it always helps to open the windows and let some fresh air in. Even if it is cold outside, it might be worth feeling temporarily uncomfortable in order to air out the home. However, if the smell still persists, consider contacting a deodorization service that uses professional products to remove stubborn smells from all surfaces.
Cigarette Odor Removal Products
While some odors prove to be much stronger than others and will require a professional odor removal service to get rid of the smell, many can be removed using home products. When searching for a deodorizer, check the ingredients label for the type of cleaning agents used.
Febreze, for example, contains cyclodextrin, a chemical used in various cleaning products that acts similar to charcoal and baking soda, absorbing the odor from the surfaces. However, it is a chemical that is much too weak when it comes to years of built up tar and smoke odors.
You can use these specialized deodorization products to get rid of a cigarette smell:
Charcoal. One of the most effective odor removal products, it absorbs more of the odor particles than baking soda or the Febreze cleaning agent. It can also be bought at any local retailer.
Organic Cleaners and Odor Removers. Although a little more expensive, you can use these products that are much eco-friendlier to the environment. They can be found in the fresh foods section of your local grocery store. But first, you may want to check for online reviews to see if they work as well as the other chemicals.
Ozone Generator. Although effective, this machine is not highly recommended as it can be dangerous to your health if left on for too long. Just make sure to keep your windows open when using it to air out the products and smoke odor. Also, be sure to keep it out of the reach of young children and pets.
Calling for Professional Cigarette Odor Removal Services
There are a number of odor-removing products that can be bought locally and are effective when removing minor cases of unwanted smells. But when you have tried them all and have only grown more frustrated after all of your efforts to remove the odor, consider calling the professionals of ServiceMaster.
In addition to providing disaster restoration services, the expert technicians at ServiceMaster specialize in odor removal. Using advanced products and equipment, they will apply the most powerful agents designed to penetrate the odor particles and destroy them from the inside. Finally, you no longer have to be bothered or feel embarrassed by an awful cigarette smell in your home or building after these professional services.