7 Free Ways to Cut Energy Costs
Creating and staying on a budget is something homeowners around the world have to do. Ignoring the need for a budget may lead to financial disasters. Developing a budget will require you to take a hard look at expenses, such as energy consumption and utility rates.
On average, homes in the United States consume around 900 kWh of energy per month. Drastic upswings in the amount of energy you consume are not only bad for your wallet, it can also be bad for the environment. Whether you are renting or you own your home, finding ways to make your home more energy efficient is often easier said than done. Accomplishing this goal will require a lot of hard work and dedication.
Here are 6 free ways that you can cut energy costs in your home:
1. Make Sure You are Getting the Best Energy Rate
Instead of settling on a particular energy provider, you need to be sure you are getting the best possible deal. In some cases, switching to a different energy provider can help you save a lot of money. Luckily, there are a number of websites online that allow you to look at rates from various energy providers. With a bit of online research, finding a reputable energy provider that has competitive prices will be much easier on the checkbook.
2. Cutting Heating and Cooling Costs
Keeping your home's interior at a comfortable temperature is only possible with a functional HVAC unit. The more your home's HVAC unit is used, the higher the cost of your energy bill. Instead of having to deal with uncomfortable indoor temperatures, due to an attempt to save money, finding an alternative means of cutting the costs associated with running your HVAC unit may prove to be very beneficial. Here are some ways you can reduce HVAC energy consumption:
Keep your HVAC unit properly maintained. An HVAC unit that is neglected will usually waste more energy.
Change your HVAC unit's air filter on a monthly or bi-monthly basis.
Close your windows' blinds in the summer, and open them in the winter.
Run ceiling fans in the summer, and run them in reverse during the winter to conserve energy without sacrificing your comfort.
Pinpoint the source of drafts and air leaks by inspecting your home's doors and windows. When discovered, use a tube of high-quality caulk to fix them. If these drafts are being caused by a damaged door or window, you may need to have them replaced altogether. Though these repairs will cost money initially, they will save you more money in the long run.
3. Assess the Settings on Your Water Heater
If you are like most people, one of the first things you do each morning is indulge yourself with a long, hot shower to help wake up fully and greet the day. While a hot shower is important, the wrong settings on your water heater can result in energy waste. Most water heaters come with a thermostat which is set around 140 degrees Fahrenheit. Altering these settings and decreasing your water heater's thermostat to 120 degrees Fahrenheit can save you up to 22 percent on your energy bill annually.
4. Utilize the Space in Your Washing Machine
Another means of reducing the amount of energy your water heater uses is to use cold water when washing clothes. Not only does this help you reduce the strain on your water heater, it can also help you extend the life of your washing machine.
Washing larger loads of clothes will also help with this. Sure, washing small loads may seem like a good idea, but doing so increases home energy waste. And the more loads you wash each day, the higher your home's energy usage. Washing larger loads of clothes when possible, however, will decrease your home energy waste, as well as your water and energy bills.
And while we are on the subject of washing, be sure to fill your dishwasher to capacity before running it (for the same reasons).
5. Turn Off Lights and Electronics When They Are Not in Use
For most parents, getting children to turn off the lights in a room they aren't using is a constant source of stress. But getting in the habit of turning off your lights when not using them can help you save a lot of energy.
What most homeowners fail to realize is just how much energy electronic devices use when sitting idle. To prevent idle electricity drain, electronic devices in your home should either be turned off, put into sleep mode when not being used, or unplugged, such as your radio, coffeemakers, and microwaves when not in use. To simplify this process, connect as many of these appliances and devices on power strips. This allows you to turn off all of these items by flipping a single switch. Increasing the convenience of this process will make it easier to get the whole family on board.
6. Take Advantage of Outdoor Cooking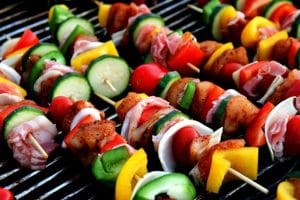 A significant amount of energy is used when cooking meals indoors. The stove you use to prepare meals will usually raise the temperature in your home, causing your HVAC unit to kick on in order to return the temperature to a comfortable level. There is also an increased risk of fire when cooking indoors, as cooking is one of the top causes of house fires. Any amount of fire damage in your kitchen will require the attention of a fire damage restoration professional.
Cooking outside during the spring and summer months, when the weather outside is perfect for grilling, will make your family happy, and the reduction of your home's energy consumption will make you happy.
7. Energy Audits Can Be Helpful
Finding where energy issues exist in your home is much easier when having an energy audit performed. With the help of professionals, getting an accurate and in-depth audit will be easy on the wallet. At ServiceMaster Cleaning & Restoration, we are the local experts of restoring homes and businesses after disasters in Mt. Sterling, Western Central Illinois, and Northeast Missouri. Our team of professional technicians is on call 24/7 for emergency restoration services for residential or commercial properties, including water damage, flooding, fire and smoke damage, and mold remediation and removal services. From foundational remodeling to full disaster restoration, we custom design each project to ensure that you receive the exact reconstruction services you need. Give us a call today at (217) 408-0418.