Rebuilding physical property damage is challenging enough, but the best work means less if there's still a horrible odor. Once odors get into building materials and furnishings, they're almost impossible to remove with commercially available products and equipment. ServiceMaster by Alpha Restoration provides deodorization services to remove even the worst odors from homes and businesses in the Miami, FL area. Our deodorization services remove deep set odors from the air, furnishings, and building materials using state of the art sanitation and air purification techniques.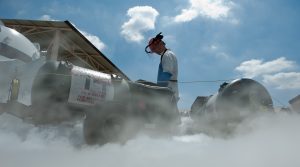 Our professionals at ServiceMaster by Alpha Restoration understand the nature of how odors are absorbed by various materials and we know how to use air purification techniques to effectively remove them. Our proven odor removal techniques include air scrubbing, thermal fogging, ozone treatments, and hydroxyl deodorization. We've removed all kinds of bad smells, so you can trust us to remove anything fouling your home or business, including:
Fire and smoke odors;
Dead/wild animal smells;
Pet odors;
Biological odors;
Musty smells from mold or water damage.
Bad smells can't be covered up; nobody likes to breathe clouds of air fresheners and it gets expensive quickly.
Our comprehensive deodorization services include:
Finding and treating the original source of the odor;
Treating building materials and furnishings affected by the odor;
Sanitizing and purifying the air space;
Sealing porous surfaces;
Documenting the entire process.
Our professionals at ServiceMaster by Alpha Restoration can safely and effectively remove odors associated with these disasters:
Fire and Smoke. We can remove the heavy smoke smell from furnishings and building materials, as well as purify the air.
Water Damage and Mold. We remove strong, musty smells associated with water and mold.
Biological Odors. We eliminate odors from animals and other biohazard materials.
If an overwhelming odor won't go away at your home or business after a simple airing-out in Miami, FL or surrounding areas, call the professionals at ServiceMaster by Alpha Restoration. We use only the most effective deodorization methods available in the industry to remove all traces of tough odors from your home or business. You can call us 24 hours a day, 7 days a week at (305) 707-6135 for emergency deodorization services.
We provide complete deodorization services in Miami, FL as well as Miami Beach, Miami Shores, North Miami, North Miami Beach, Miami Lakes, Miami Springs, Miami Gardens, West Miami, and South Miami.