Mold
Aside from water damage, mold growth is a serious health hazard. Other secondary effects such as corrosion and structural deterioration can be potentially more significant than the initial water damage itself. Therefore we also offer mold removal services to reverse this damage.
Mold Remediation
Do you know how to prevent mold growth? This may be as simple as using a dehumidifier or fixing a simple leak. If the mold issue has started to grow beyond solving with household cleaners, then it is time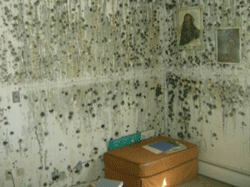 to bring in a professional.
ServiceMaster Fire and Water Restoration provides mold removal services also prevent future mold growth by offering tips to control humidity, fix water leaks and maintain proper indoor air circulation. Our ServiceMaster staff is also certified for mold remediation through the Institute of Inspection Cleaning and Restoration Certification (IICRC).
Our mold and mildew removal services include:
Non-Salvageable Material Removal
Deodorization and Dehumidification
Water Source Elimination
Affected Content Removal and Decontamination
The key to mold control is moisture control. Our highly experienced team utilizing our inventory of specialized remediation equipment can undertake and successfully complete projects of any magnitude. Our emergency response team can will reduce your losses and save you money.
Call ServiceMaster Fire and Water Restoration now at (303) 800-3404!
---
Recent Reviews
Review by

Tjty James
Rating

"Cassie and her crews were incredible. She truly made me feel like the patient who finally meets the doctor who can cure his or her ailment. She was prompt, knowledgeable, friendly and professional. Servicemaster is very fortunate to have such a wonderful employee.!"