Fire Damage
After a fire you will likely have several types of damage. Some collections or parts of your building will be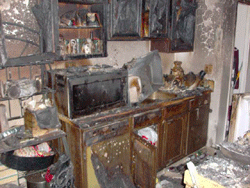 water damaged. Some items will be heavily damaged by the fire — exhibiting ashing, charring, melting, or other distortion from the heat. Much of this material is likely not salvageable. The remainder may be lightly scorched, covered in soot, and have a strong odor of the fire.
No matter how bad the fire or smoke damage, remember that life safety must always be the first concern. Fires can release a number of hazardous materials — PCBs from transformers, toxic chemicals from labs, asbestos from insulation of pipes.
After this you should immediately contact your insurance carrier and notify them of the fire and/or smoke damage. You should ask for immediate assistance from a senior adjuster, explaining the unique nature of your collections and that salvage is time sensitive.
Smoke Damage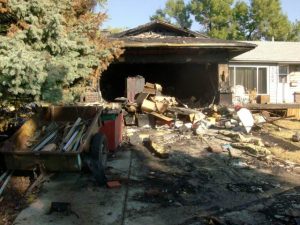 Smoke is basically fuel that didn't burn, made visible by the presence of small particles of carbon and other material. Complete combustion gives off light, heat, the gas carbon dioxide, and water vapor. Smoke is corrosive and can easily damage a wide range of collections. This damage is usually exacerbated if you touch the item with your bare hands — the combination of finger oils and the acidic by-products can etch into finishes and metals. As a result, it is critical that you always wear gloves during fire recovery efforts.
Smoke and Fire Damage Restoration

When a fire strikes your property, make ServiceMaster Fire and Water Restoration your first response team for repairing smoke, fire, and water damage to your home or business. Day or night, within just hours the best-trained professionals in town will be on-site and on the job to assess the damage and begin restoration at this most traumatic time. And because ServiceMaster Fire and Water Restoration is recommended by most insurance companies, you can be sure we'll get the job done right the first time.
The moment we receive your call, our professional staff takes over for you. We work with the fire department, police department and insurance company to quickly secure your property and begin restoration work.
For fire & smoke damage restoration services in Littleton CO 80127 area, contact ServiceMaster Fire and Water Restoration immediately at (303) 800-3404.
---
Recent Reviews
Review by

Tjty James
Rating

"Cassie and her crews were incredible. She truly made me feel like the patient who finally meets the doctor who can cure his or her ailment. She was prompt, knowledgeable, friendly and professional. Servicemaster is very fortunate to have such a wonderful employee.!"