Carpet Cleaning
How often do you clean the carpet in your home and in your office? Vacuuming daily and carpet freshener can only pick up surface dirt and mask smells for so long before you realize it's time to replace the floor coverings.
The cleaning professionals at ServiceMaster Fire and Water Restoration are a great resource for intensive carpet and upholstery cleaning in your area in Littleton CO 80127.
Our carpet cleaning services create a healthier indoor environment by removing accumulated dust and allergens.
Upholstery Cleaning Services
The condition of the upholstery in your home can make a big difference in the overall look and feel of a room. When upholstered chairs or couches begin to look grey and dingy, you might be tempted to replace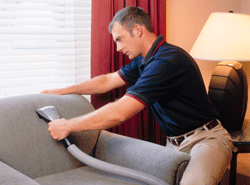 them. However, upholstery cleaning by an experienced professional can go a long way toward restoring your furniture to its original appearance. When you have your carpets cleaned, ask about including your upholstered furniture in the quote. A professional carpet and upholstery cleaning service will extend the life of your home's textiles and keep them looking newer.
ServiceMaster Fire and Water Restoration's courteous and professional technicians are specially trained to clean all types of upholstery from herculon and micro-fiber to Haitian cotton. All that is left behind is cleaner, softer upholstery.
The pre-treatment takes care of the majority of spots, however, some spots require special treatment. There are multiple cleaning techniques at our disposal. If you or the technician has any concerns several tests can be performed to determine the best method for your upholstery.
Tile and Grout Cleaning Services
Let ServiceMaster Fire and Water Restoration take one more cleaning job off your hands (and knees), with a powerful, yet safe and gentle, effective tile and grout cleaning process. We can schedule a free in-home estimate or to schedule a convenient cleaning appointment to fit your busy schedule, including Saturdays. Serving Littleton, Colorado and surrounding areas.
Call ServiceMaster Fire and Water Restoration at (303) 800-3404 to schedule your professional carpet & upholstery cleaning.
---
Recent Reviews
Review by

Tjty James
Rating

"Cassie and her crews were incredible. She truly made me feel like the patient who finally meets the doctor who can cure his or her ailment. She was prompt, knowledgeable, friendly and professional. Servicemaster is very fortunate to have such a wonderful employee.!"