Water is the leading cause of property damage because it comes from so many different sources. A sewage backup in the basement, a leaking dishwasher, or an overflowing toilet from a toy flushed by a toddler are only a few of the ways excess water can find its way inside. It's never a good idea to let water sit and hope it goes away on its own because it will be absorbed into porous materials and cause more damage. Without prompt restoration, the damage will be permanent. Mold begins to grow within 48 hours of a water leak because the spores are everywhere in the air and they need moisture to form into mold.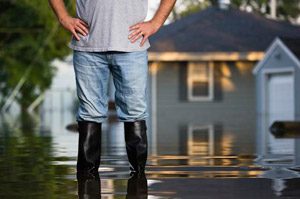 ServiceMaster Fire and Water Restoration can remove all traces of excess water from your home or business in Castle Rock, CO and the surrounding areas before mold growth begins, using the most efficient water extraction and drying equipment available to the industry. We know that every minute there's standing water is another minute your family is inconvenienced, or your business is affected, so we work quickly to get things back to normal. We're a preferred vendor for over 10 major insurance companies, so you can trust us to do the job right the first time. Because we work with insurance companies so often, we know the process and work with them to settle claims quickly.
It's important to call for professional water damage restoration from a company like ServiceMaster Fire and Water Restoration at the first sign of excess water so we can begin the restoration and remediation process before any damage becomes permanent. Even if electronics, books, and delicate heirlooms are waterlogged, they can still be salvaged by trained professionals, but only if restoration starts in time. That's why our highly trained professionals are on call 24 hours a day, 7 days a week, to respond to emergencies of all sizes, contain the spread of the water, and begin the restoration process. It's not a good idea to attempt water damage restoration on your own, especially if the damage is from a sewage backup. Sewage contains biohazard materials, which must be handled carefully by trained individuals to avoid contamination.
No matter how excess water gets into your home or business in Castle Rock, CO, the highly trained professionals at ServiceMaster Fire and Water Restoration can remove all traces of it, as well as rebuild damaged structural elements and restore damaged content. We're on call 24 hours a day, 7 days a week to stop the spread of excess water before it can cause more damage. Call us at (303) 800-3404 for high quality water damage restoration services.
---
Recent Reviews
---
Review by Tjty James
Disaster Restoration
Rating

"Cassie and her crews were incredible. She truly made me feel like the patient who finally meets the doctor who can cure his or her ailment. She was prompt, knowledgeable, friendly and professional. Servicemaster is very fortunate to have such a wonderful employee."
---
Review by Courtney Clark
Disaster Restoration
Rating

"Super professional and on time. Recommend them to anyone."
---
Review by Joseph Steffens
Disaster Restoration
Rating

"Was moving out of my home and called ServiceMaster to clean our carpets. They did an amazing job and their technician was very detailed and a true expert! Would highly recommend this company."
---
See All Reviews