Fires are frightening and intimidating, and for good reason. They move quickly and cause a great deal of damage in a short time which is why it's important to evacuate everyone from the area in case of a fire. Never try to remove possessions or put out the fire by yourself. It's too easy for it to get out of control and trap people inside. It's tempting to relax when the flames are finally out, but damage continues to occur. Toxic fumes from burning synthetics, soot, smoke, water, and firefighting chemicals wreak havoc on structural elements and content inside residential and commercial properties long after the fire department has left, unless remediation begins quickly. These toxins etch vulnerable surfaces like chrome, aluminum and porcelain, while fumes can travel farther than the original fire and get into places the flames didn't reach.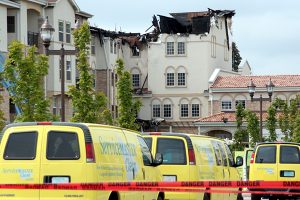 ServiceMaster Fire and Water Restoration offers high quality fire and smoke damage restoration services for homes and businesses in Castle Rock, CO and the surrounding areas. Our specialists have extensive training and experience in restoring and rebuilding content damaged by fires of all sizes.
Our Fire and Smoke Damage Restoration Services include:
Precleaning of damaged items. We use the most effective, yet gentle cleaning products available to the industry to remove soot and toxins from household surfaces like chrome, marble, aluminum, and porcelain before the damage becomes permanent.
Content cleaning and pack-out services. We clean and restore your items on site whenever possible. In some cases, the building has been too badly damaged to allow safe on-site restoration work. In these situations, we inventory and pack-out damaged items and transport them to our secure facility for restoration. We store items until the building has been repaired, then deliver them to you.
Electronic Restoration. Our specialists have the equipment and training to restore delicate electronics, such as CD players, modems, and computers, as well as perform data recovery. If we are unable to restore an item to its pre-loss condition, there will be no charge.
Textile Restoration. We employ technicians who are highly trained in textile restoration. They can repair damage from all types of disasters, including water, fire, smoke and mold.
If you're unfortunate enough to experience a fire at your home or business in Castle Rock, CO or the surrounding areas, it's important to call the professionals at ServiceMaster Fire and Water Restoration as soon as possible. We'll arrive quickly to stop the spread of damage and start remediation before items are lost for good. Call us at (303) 800-3404 24 hours a day, 7 days a week for the best fire and smoke damage restoration services.
---
Recent Reviews
---
Review by Tjty James
Disaster Restoration
Rating

"Cassie and her crews were incredible. She truly made me feel like the patient who finally meets the doctor who can cure his or her ailment. She was prompt, knowledgeable, friendly and professional. Servicemaster is very fortunate to have such a wonderful employee."
---
Review by Courtney Clark
Disaster Restoration
Rating

"Super professional and on time. Recommend them to anyone."
---
Review by Joseph Steffens
Disaster Restoration
Rating

"Was moving out of my home and called ServiceMaster to clean our carpets. They did an amazing job and their technician was very detailed and a true expert! Would highly recommend this company."
---
See All Reviews