Hoarding has become better understood in recent years as people have begun to realize that it's a condition with roots in anxiety. Individuals feel compelled to collect items with little value, such as magazines, old newspapers, or clothing. Others are simply unable to throw any items away. Over time, these items pile up in the home and block off access to rooms. There have been news stories of people becoming trapped under fallen piles in their own homes. The stacks can also hide mold, dust, rodents, and insects, which also cause health hazards and unsafe living conditions. ServiceMaster Fire and Water Restoration provides compassionate hoarding cleaning services in Castle Rock, CO and the surrounding areas for individuals dealing with this situation.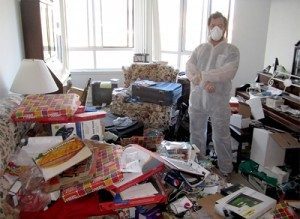 Our specialists have years of experience dealing with hoarding situations of all sizes, and we understand that these aren't cases of laziness or poor housekeeping skills. We meet with the individual and the family to build a relationship based on trust and develop a plan to sort through the items in the home and remove unwanted items. We stress at all times that there's no shame in this situation and we treat the individual with respect and dignity. We don't arrive with garbage bags and dumpsters to throw away everything in sight. No items will be removed from the home without the individual's expressed permission.
ServiceMaster Fire and Water Restoration's Hoarding Cleaning Services include:
• Sorting through items and deciding what should be kept, donated, recycled or discarded;
• Removing unwanted items from the home and delivering them to friends, family, charities, or disposal facilities;
• Setting aside valuables, such as jewelry and antiques;
• Cleaning and sanitizing the home so it's safe to live in again;
• Deodorizing the home to remove lingering odors.
Hoarding may have been hidden in the past, but there are ways to get help for this condition today. If you or someone you know is dealing with hoarding in Castle Rock, CO or the surrounding area, call ServiceMaster Fire and Water Restoration for caring, compassionate hoarding cleaning services to help your loved one get their life back under control again. Call us at (303) 800-3404 to set up an appointment for a consultation.
---
Recent Reviews
---
Review by Tjty James
Disaster Restoration
Rating

"Cassie and her crews were incredible. She truly made me feel like the patient who finally meets the doctor who can cure his or her ailment. She was prompt, knowledgeable, friendly and professional. Servicemaster is very fortunate to have such a wonderful employee."
---
Review by Courtney Clark
Disaster Restoration
Rating

"Super professional and on time. Recommend them to anyone."
---
Review by Joseph Steffens
Disaster Restoration
Rating

"Was moving out of my home and called ServiceMaster to clean our carpets. They did an amazing job and their technician was very detailed and a true expert! Would highly recommend this company."
---
See All Reviews