Se habla español
Did you know that the carpet in your home is the largest and most heavily-used furnishing on the property? It has a big impression on visitors, employees, and potential clients, but it receives daily foot traffic than can cause it to deteriorate over time. Debris is constantly tracked in by shoes, even causing friction amongst the fibers and wearing them down.
While frequent vacuuming can help pick up the dirt, professional cleaning is needed in order to restore a like-new condition within the carpeting. ServiceMaster All Care Restoration is available in Tempe, AZ to provide professional carpet cleaning services for both homes and businesses. Our technicians are experienced and use effective techniques and products in order to remove all embedded dirt and debris.
Carpet Cleaning in Homes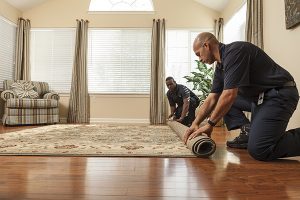 Within your home, your carpet is affected by constant foot traffic and furniture. Over time, it will only become more damaged as the dirt and debris build up within the fibers and beyond the reach of your vacuum.
Home remedies may be able to remove some stains, but others can be stubborn, causing the entire carpeting to look discolored. There are also a number of other sources that can accelerate the deterioration process; they include pets, kids, and additional people living in the home. Generally, we recommend one cleaning every 6-12 months but it will ultimately depend on the situation in the home.
Hot Water Water Extraction
Within ServiceMaster All Care Restoration's carpet cleaning services, our technicians use a perfected technique known as the hot water extraction method. This technique has been known to completely remove all deeply embedded dirt and debris from your carpet fibers. They are first treated with a cleaning solution mixed with hot water. The mixture will loosen the fibers and is then extracted along with the dirt and debris. Our holding tanks will then store the dirty solution while your carpet dries, leaving no residue behind.
Our carpet cleaning services include all of the following:
Carpet pre-cleaning
Pre-treating carpet spots and stains
Deep cleaning using the hot water extraction method
Post cleaning of fibers
Fiber grooming for an accelerated drying process
Final inspection to ensure your satisfaction
Carpet Cleaning for Commercial Buildings
There is a big difference between commercial and residential carpeting. Those in a commercial building will receive significantly higher foot traffic, dirt, and stains than those in homes. This can cause the entire furnishing to look dirty and smell, giving your employees and potential clients a bad impression. Smelly carpeting can also be distracting, causing employees to be unproductive.
But the hot water extraction method used by ServiceMaster All Care Restoration is also very effective in commercial buildings. This service can be used on a one-time or multiple times to maintain a professional, clean look. Overall, you can expect our technicians to keep the dirt and debris out of your carpet fibers, allowing them to last longer and even extend the warranty on your carpeting.
Free Estimate
If the carpeting in your home or business is loaded with stains and embedded dirt and debris, it is probably time for your next cleaning.
Give ServiceMaster All Care Restoration a call at (480) 717-3030 for a one-time or ongoing carpet cleaning services in Tempe, AZ. We service commercial and residential properties. Se habla español.
---
Recent Reviews
Review by

Beth Gaspadarek
Rating

"These guys were very quick about responding to my call. I was away for a couple of days and my bathroom sink sprung a leak. They were very nice and professional."