ServiceMaster Restoration by Complete
Water Damage Related Info
It does not take long for excess water or moisture in your building to become a major problem as it quickly gets absorbed in wood and drywall where it can cause structural damage as well as mold and mildew growth.  There are many potential causes of water damage including weather conditions such as flooding, rain, and humidity as well as internal factors including leaks and burst pipes.  ServiceMaster Restoration by Complete provides water damage restoration services in Brooklyn, NY to remove excess water from your home or building as well as clean up and restore the resulting damage.  We arrive within 1-2 hours of your call to help stop the water from spreading and causing secondary damage.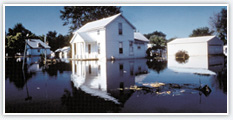 The biggest problem with water damage is that it can spread very quickly because most building materials, including drywall, wood, and insulation, are porous and allow the water to spread through them.  This can cause extensive structural damage if given enough time while greatly increasing the risk of mold growth.  The technicians of ServiceMaster Restoration by Complete use the most advanced drying equipment and cleaning products available to restore your building and furnishings with in-place drying.
Our water damage restoration process can normally be completed in 3-5 days and consists of the following steps:
Emergency Response: We respond quickly to stop the spread of the water and do a complete assessment of the damage to determine the best remediation method.
Water Extraction and Drying: We set up drying equipment to extract the water such as dehumidifiers and air movers and check the progress of the drying daily.
Reinstallation and Cleaning: We will replace anything that was moved during the remediation process and we can clean up and disinfect affected areas.
If you discover significant water damage in your building, call ServiceMaster Restoration by Complete immediately and follow these tips to help limit the spread of the damage.
Water Restoration – What to Do
Try to remove water by mopping and blot drying.
Remove non-permanent rugs and other floor coverings but do not try to remove permanent carpeting or flooring.
Put drapery bottoms through a coat hanger and put the hanger on the rod to keep the drapes off the floor.
Wipe off wet furniture and put aluminum foil under all furniture legs to protect the carpet from staining.
Put paintings, photos, and other vulnerable objects in a safe, dry location.
Keep water damaged books packed tightly together to prevent the pages from warping until they can be treated with specialized drying.
Open up internal doors, drawers, and cabinet doors to help the drying process.
Flood Extraction – What NOT to Do
Do not walk into a room with standing water unless the electricity has been shut off.
Do not try to remove water with a regular vacuum cleaner.
Do not try to remove permanent carpeting or flooring.
Do not use electrical appliances while standing on a wet floor.
Do not try to clean up any mold growth.
Any case of water damage can become an emergency situation if given enough time so make sure you call ServiceMaster Restoration by Complete immediately if you find water damage in your building in Brooklyn, NY.  We provide a fast response to limit the spread of the damage and effectively remove the excess water and moisture with our advanced equipment.  You can call us 24 hours a day at (347) 380-8388 for water damage emergencies in Brooklyn, NY.