Mold does more than make wall surfaces look uneven or give off a musty smell. It eats away at surfaces like textiles, drywall, and paper until they eventually rot and collapse. The microscopic spores are everywhere in the air and there's no way to remove all traces of them, not even with the best air purifier. All they need is a source of water to start growing. The spores release into the air easily, spreading through the building on clothes, shoes, and pets. They irritate nasal passages, lungs, and eyes and make allergy symptoms worse. People who normally don't experience difficulties can find themselves having problems and blame their symptoms on a cold that won't go away. Only after a visit to the doctor, and maybe even a few rounds of allergy testing, do they discover there's mold at home or at work.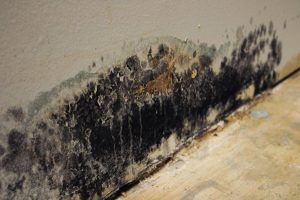 Mold only gets worse over time. If left alone, it will continue to grow and eventually reach into hidden areas like wall interiors, where it can spread undetected. That's why it's so important to call ServiceMaster Fire and Water Restoration any time you see mold in your home or business in Parker, CO. It's too dangerous to clean mold by yourself because it's easy to spread the spores and infect yourself and others, unless you wear protective gear and have training in proper remediation techniques. Home remedies like spraying bleach on the mold just causes more spores to be released into the air, and painting over mold doesn't work and looks bad.
Our specialists use cleaning products that aren't available for sale to the public to eradicate all traces of mold, even in hidden places, without damaging vulnerable surfaces. We undergo rigorous training and wear protective equipment so we don't spread the spores and contaminate the rest of the building, or other people. We contain the spread of the mold, and then develop a comprehensive remediation plan to remove it and restore damaged items.
ServiceMaster Fire and Water Restoration's Mold Damage Remediation includes:
Evaluating the area for the presence of mold;
Stopping the spread of mold so it can't cause more damage;
Creating a full remediation and restoration plan;
Eliminating all traces of the mold and repairing all damage.
Mold should always be taken seriously because it's not only a threat to your property, but to your health as well. It won't go away on its own and if it gets into a hidden space, it will spread without anyone's knowledge, so it's important to call ServiceMaster Fire and Water Restoration any time you find mold in your home or business in Parker, CO and the surrounding areas. No matter the size of the infestation, we can remove all traces of it and repair the damage so you can literally breathe freely again. Call us 24 hours a day, 7 days a week at (303) 800-3404 for comprehensive mold remediation services.
---
Recent Reviews
---
Review by Tjty James
Disaster Restoration
Rating

"Cassie and her crews were incredible. She truly made me feel like the patient who finally meets the doctor who can cure his or her ailment. She was prompt, knowledgeable, friendly and professional. Servicemaster is very fortunate to have such a wonderful employee."
---
Review by Courtney Clark
Disaster Restoration
Rating

"Super professional and on time. Recommend them to anyone."
---
Review by Joseph Steffens
Disaster Restoration
Rating

"Was moving out of my home and called ServiceMaster to clean our carpets. They did an amazing job and their technician was very detailed and a true expert! Would highly recommend this company."
---
See All Reviews