303-800-3404
Fires are dangerous because they move fast, growing from a small spark to a blaze in seconds. In case of a fire, make sure everyone leaves the building and call 911 from a nearby location; make sure nobody goes back inside or tries to remove items. There's an obvious sense of relief when the fire is finally out, but that doesn't mean the end of the damage. Water, firefighting chemicals, smoke, soot, and toxic fumes continue to leave their marks on your home or business and its contents, unless remediation begins fast.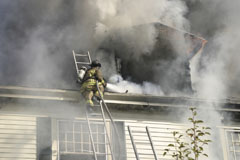 ServiceMaster Fire and Water Restoration offers high quality fire and smoke damage restoration services to homes and businesses in Parker, CO and the surrounding areas that have experienced fires of all sizes. Our rapid response ensures that the damage will be contained, and restoration will begin immediately. We remove toxins from vulnerable surfaces like porcelain, chrome, and aluminum before they etch and tarnish the surfaces permanently. Our cleaning products and equipment can even remove the thick smoke smell that permeates every surface, even in places the fire didn't reach.
Our Fire and Smoke Damage Restoration services include:
Pre-cleaning damaged items: We pre-clean items damaged in the fire with the most effective, yet gentle products available to the industry. This removes tarnish from surfaces like porcelain, marble, and aluminum before it becomes permanent and the surfaces are ruined.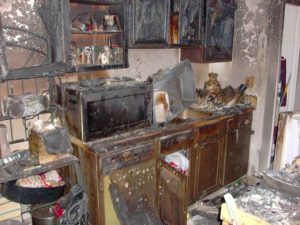 Content cleaning and pack-out services: We clean and restore items on site whenever possible, both for convenience and your peace of mind. In some cases, the building has been too badly damaged and it's not safe for our staff to work on site. In these situations, your items will be carefully inventoried and packed-out for transportation to our secure facility for restoration. Your items will be stored until the building has been repaired, then delivered to you.
Textile Restoration: We have experts in textile restoration on our staff that can repair all types of damage to textiles from mold, water, smoke, and fire.
Electronics Restoration: Our staff includes technicians specially trained in data recovery and restoring electronics, such as computer, modems, TVs, and CD players. If we cannot restore an item to its pre-loss condition, there's no charge.
No matter what size of a fire you experience at your home or business in Parker, CO and surrounding areas, call the experts at ServiceMaster Fire and Water Restoration. We're a preferred provider for over 10 insurance companies, so we know how to repair all kinds of fire damage, the right way, the first time. Call us 24 hours a day, 7 days a week at (303) 800-3404 for high quality fire and smoke damage restoration services.
---
Recent Reviews
---
Review by Tjty James
Disaster Restoration
Rating

"Cassie and her crews were incredible. She truly made me feel like the patient who finally meets the doctor who can cure his or her ailment. She was prompt, knowledgeable, friendly and professional. Servicemaster is very fortunate to have such a wonderful employee."
---
Review by Courtney Clark
Disaster Restoration
Rating

"Super professional and on time. Recommend them to anyone."
---
Review by Joseph Steffens
Disaster Restoration
Rating

"Was moving out of my home and called ServiceMaster to clean our carpets. They did an amazing job and their technician was very detailed and a true expert! Would highly recommend this company."
---
See All Reviews