Every home and building has had a water damage issue at some point and even though its common to experience minor water damage, it can still become a huge problem. Water damage can be caused by many factors such as wet weather conditions that include flooding and heavy rain, or issues within your home such as plumbing leaks, overflows, burst pipes, and sewage backups. Once the damage starts, it will gradually get worse as the excess water and moisture penetrates absorbent building materials. ServiceMaster Restoration by Complete provides water damage restoration services in Newark, NJ to cleanup excess water from homes and businesses and repair the damage. Our technicians arrive quickly to contain the damage and begin the drying process before the excess water causes structural damage or mold.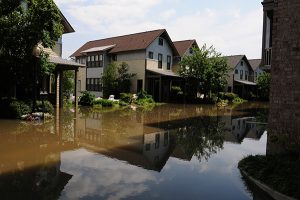 Most building materials within a home or building including flooring, wood, insulation, and drywall are absorbent. They allow excess water to spread far and deep into your home and the damage it causes to these materials could threaten their structural integrity. Water significantly weakens building materials like wood and drywall which only increases the risk of structural damage. The presence of excess water and moisture also leads to mold growth which will make the property damage even worse while putting those inside at risk for mold related health issues. At ServiceMaster Restoration by Complete, we use the best available water extraction equipment to remove standing water as well as moisture absorbed by porous materials. It usually takes about 3-5 days to ensure that all the water is removed and that the affected materials have been thoroughly dried.
You can expect the following steps from our water damage restoration services:
Emergency Response: We arrive within 1-2 hours of your call to help prevent serious damage and begin the restoration.
Water Extraction and Drying Equipment: Our advanced water extraction equipment can remove large amounts of water, and we use the in-place drying method to extract moisture from affected furnishings and materials.
Reinstallation and Cleaning: The damaged area will be thoroughly cleaned and restored and we will put large objects like furniture back in their place if they were moved during the restoration.
Frozen Pipes
Newark, NJ sometimes experiences frigid temperatures during the winter that are cold enough to freeze the water within your pipes. This is most likely to happen in areas like your attic or basement where pipes are exposed and uninsulated. Once the water inside freezes, it begins to expand and put pressure on the walls of the pipe. If the ice causes the pipe to burst, you can have hundreds of gallons of water spilling into your home. Our technicians at ServiceMaster Restoration by Complete have experience dealing with burst pipes. We will quickly remove the water that has spilled into your home and set up our drying and dehumidification equipment to dry the area. Insulating your exposed pipes can help you avoid frozen and burst pipes during the winter.
It is difficult to determine the extent of water damage which is why it is best to call ServiceMaster Restoration by Complete if you discover water damage in your home or business in Newark, NJ. Our fast response will help stop the water from spreading further and we use the best drying and extraction equipment in the industry to restore damaged furnishings and building materials. You can call us 24 hours a day for emergency response in Newark, NJ at (732) 751-4004.
---
Recent Reviews
Review by

Shayon M.
for
Disaster Restoration
Rating

"The project manager and his team were very efficient and knowledgeable. Quick turnaround on all the issues we had at home."
---
Review by

Daniel C.
for
Disaster Restoration
Rating

"Work was excellent. Your people are very hardworking and conscience. I am very satisfied and would certainly recommend service master to friend and neighbors"
---
Review by

Valarie B.
for
Disaster Restoration
Rating

"All who worked did a great job, but there was a lack of communication between the various parties (insurance companies, condo association) about what work needed to be done to address the situation. The carpet was never removed. I'm not sure why."
---
ServiceMaster Restoration by Complete Reviews
Review us on Google