If you own a home or property, then you know the fear of experiencing significant property damage from a natural disaster. Several disasters including major storms, fires, floods, and accidents can result in serious exterior damage, or damage to the structural core of the building. Buildings that have sustained this type of damage are dangerous and vulnerable, and they require immediate stabilization to prevent even worse damage. ServiceMaster Restoration by Complete provides construction services in Newark, NJ to stabilize homes and buildings with extensive damage and get them repaired to their previous condition. Our immediate stabilization will secure your home or building to prevent further damage while we create and implement a construction plan.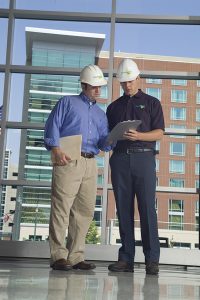 Serious property damage to your home or business is a major hassle. The extent of the damage is overwhelming and it could take days or weeks to get the damage repaired, causing a major interruption in your life. The construction process is also a hassle as there will be work crews going in and out of your home with building materials and equipment. Our technicians at ServiceMaster Restoration by Complete understand the difficulty of this situation and we will help make the construction process as efficient and simple as possible. We can handle complete construction services with a full staff that consists of subcontractors, handymen, carpenters, and project managers responsible for overseeing the work. The project manager will keep you updated on the progress of the project and address your questions or concerns.
Our complete construction services include the following:
Permits and licenses
Full service general contracting
Architectural reports and blueprints
Consultation and design
Remodeling
Plumbing and electrical work
Carpentry, framing, and custom woodwork
Painting and staining
Roof repair and replacement
Smoke sealing
Carpet and flooring
Wallpapering
Custom window treatments
It is never easy to deal with the aftermath of extensive property damage, but we are committed to bringing you some peace of mind in a stressful situation with our construction services. Our technicians are ready to provide emergency stabilization services for heavily damaged homes and businesses in Newark, NJ as well as complete repairs. You can call us 24 hours a day at (732) 751-4004 for emergency stabilization and construction services.
---
Recent Reviews
Review by

Shayon M.
for
Disaster Restoration
Rating

"The project manager and his team were very efficient and knowledgeable. Quick turnaround on all the issues we had at home."
---
Review by

Daniel C.
for
Disaster Restoration
Rating

"Work was excellent. Your people are very hardworking and conscience. I am very satisfied and would certainly recommend service master to friend and neighbors"
---
Review by

Valarie B.
for
Disaster Restoration
Rating

"All who worked did a great job, but there was a lack of communication between the various parties (insurance companies, condo association) about what work needed to be done to address the situation. The carpet was never removed. I'm not sure why."
---
ServiceMaster Restoration by Complete Reviews
Review us on Google