ServiceMaster Southwest
Mold is a constant threat to appear in a home or building as the spores are always present in the air and form into mold once they find a moisture source and organic food source.  Mold can cause irreversible damage to the surfaces it affects and it releases its spores which leads to the spreading of mold growth as well as negative health reactions such as allergies and respiratory issues.  ServiceMaster Southwest provides mold remediation services to remove mold from homes and businesses in Missouri City, TX.  Our advanced equipment allows us to locate and remove all mold growth and we will also help reduce the moisture level to prevent the mold from returning.
Commercial and Residential Mold Remediation Services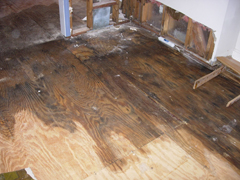 Mold colonies constantly release spores in the air which can cause mold growth in a new area of the building and increase the risk of negative health effects.  Exposure to mold spores has been associated with allergy symptoms such as itchy or watery eyes, stuffy nose, and skin irritation as well as more serious respiratory problems or infections.  Removing the mold as quickly as possible from your home will prevent further damage and reduce the risk of serious health effects.  ServiceMaster Southwest will uncover and remove all mold growth using advanced testing equipment and we keep the mold contained as we work so it will not spread to new areas.  After the mold is removed, we will either repair or replace the affected surfaces.
You can expect the following from our mold remediation services:
Complete assessment of the mold growth
Reporting of our findings to your insurance company
Containment of the affected area to prevent the mold from spreading
Creation of a mold remediation plan based on our assessment
Removal of all mold growth including hidden mold and restoration of the resulting damage
Mold can have serious consequences for your health and your property so do not hesitate to call ServiceMaster Southwest if you find mold in your home or business in Missouri City, TX.  Our technicians use advanced equipment and cleaning products to completely remove all mold growth including hidden mold.  You can reach us 24 hours a day at (281) 612-8739 for mold remediation services.
January 20, 2023
Clyde Loudenberg
Missouri City, TX