Finding the aftermath of a violent crime or accident on your property can be very traumatic and overwhelming. These scenes also typically include biohazard materials like blood which makes them very dangerous. If you encounter the scene of a death or serious injury on your property, you must call 911 first for emergency response and then contact a licensed professional that can safely cleanup biohazard materials. ServiceMaster Restoration by Complete provides trauma scene cleaning services to safely remove biohazard materials found at the scene of an injury or death in Middlesex County, NJ. Our technicians will ensure that the entire scene is completely cleaned and disinfected. We also understand that losing a loved one in this situation is difficult and we approach these situations with a sense of compassion.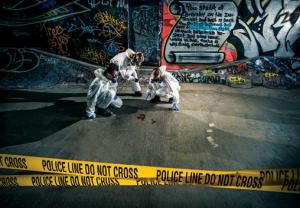 In situations involving a serious injury or death, it is very important to keep yourself out of danger and call for help immediately. Biohazard materials like blood and other bodily fluids are potentially infectious and attempting to clean them up increases the risk spreading disease or infection. At ServiceMaster Restoration by Complete, we have the right equipment to clean up biohazard materials safely and minimize the risk of infection. Once the biohazard materials are removed, we thoroughly clean and disinfect the scene to make it safe and ensure that all traces of the tragedy are removed. Our technicians work closely with law enforcement to avoid compromising the crime scene investigation.
You can expect the following with our trauma scene cleaning services:
Decontamination: We completely clean and disinfect the entire area to remove the threat of infection or disease.
Deodorization: Any foul, unpleasant odors are completely removed with effective deodorization.
Proper Disposal: All biohazard materials are taken to a licensed medical waste facility that can safely dispose of them.
Continuous Monitoring: Our technicians work diligently and discreetly to get the job done as quickly as possible.
Insurance Assistance: We work with insurance companies to help coordinate claims.
Family Assistance and Support: Our technicians approach those who have lost a loved one with a sense of compassion and we can also refer them to a counseling professional if they need extra help.
Certified Technicians: Our technicians have been highly trained to clean up scenes containing biohazard materials and we work in compliance with local and state government regulations.
Experiencing a violent crime or accident on your property is hard enough and having the responsibility of cleaning the scene makes the situation more stressful. ServiceMaster Restoration by Complete can help ease the stress of the situation by handling the entire cleaning process. We make sure to protect your privacy as we work and we will quickly restore the scene to its natural state. You can reach us 24 hours a day at (732) 751-4004 for trauma scene cleaning services in the communities of Middlesex County, NJ including Monroe Township, Piscataway Township, Perth Amboy, Metuchen, Woodbridge Township, Edison, Old Bridge Township, New Brunswick, and East Brunswick.
---
Recent Reviews
Review by

Shayon M.
for
Disaster Restoration
Rating

"The project manager and his team were very efficient and knowledgeable. Quick turnaround on all the issues we had at home."
---
Review by

Daniel C.
for
Disaster Restoration
Rating

"Work was excellent. Your people are very hardworking and conscience. I am very satisfied and would certainly recommend service master to friend and neighbors"
---
Review by

Valarie B.
for
Disaster Restoration
Rating

"All who worked did a great job, but there was a lack of communication between the various parties (insurance companies, condo association) about what work needed to be done to address the situation. The carpet was never removed. I'm not sure why."
---
ServiceMaster Restoration by Complete Reviews
Review us on Google