(732) 751-4004
When a natural disaster occurs, homeowners and property owners often react to the structural damage to their home or building first, but the damage can spread well beyond these features. Disasters like fires, flooding, and mold can affect a range of personal belongings from decorative items and knickknacks to clothing and valuable keepsakes like jewelry. These damaged items must be restored quickly or they could become permanently damaged. ServiceMaster Restoration by Complete provides content cleaning and pack-out services to restore damaged personal items that were affected by a disaster in Middlesex County, NJ. We are equipped to fully clean and restore your damaged content on-site and we also offer pack-out services to restore and store your content at our facility.
Content Cleaning and Restoration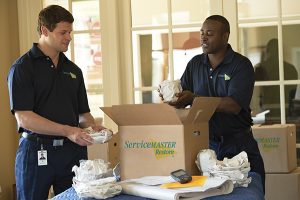 The effects of a natural disaster can spread rather easily in a home and when they result in widespread damage to your personal items, this makes the restoration process quite overwhelming. It is very important to do an inspection of your home after a disaster occurs and take note of your damaged personal items that need to be restored. Our technicians can effectively clean and restore any type of damaged personal content with our powerful cleaning products and we can also provide assistance in filing insurance claims. We have the right equipment to complete the restoration of your content in your home, but if your home is heavily damaged or unsafe, we can take your content to our facility for cleaning with our pack-out services.
Pack-Out Services
The content cleaning and restoration cannot be done effectively on-site if your home is heavily damaged or structurally unstable which is why we provide pack-out services. With our pack-out services, our technicians will carefully pack up every damaged item and record them in a detailed inventory list. A copy of this list will be provided to you and your insurance provider to help you keep track of your items. We will then take your content to our facility where we can deep clean and restore, as well as deodorize your damaged items. After the restoration is complete, we can store your items in our climate controlled facility for as long as it takes for your home to be restored or rebuilt.
Experiencing the effects of a disaster is already frustrating enough, but the task of restoring the damage may seem even more difficult if your personal items are affected. At ServiceMaster Restoration by Complete, we understand this frustration and work to restore all of your damaged content with our content cleaning and pack-out services. You can call us 24 hours a day at (732) 751-4004 for emergency assistance in Monroe Township, Old Bridge Township, Woodbridge Township, Piscataway Township, Perth Amboy, Metuchen, Edison, East Brunswick, and New Brunswick in Middlesex County, NJ.
---
Recent Reviews
Review by

Shayon M.
for
Disaster Restoration
Rating

"The project manager and his team were very efficient and knowledgeable. Quick turnaround on all the issues we had at home."
---
Review by

Daniel C.
for
Disaster Restoration
Rating

"Work was excellent. Your people are very hardworking and conscience. I am very satisfied and would certainly recommend service master to friend and neighbors"
---
Review by

Valarie B.
for
Disaster Restoration
Rating

"All who worked did a great job, but there was a lack of communication between the various parties (insurance companies, condo association) about what work needed to be done to address the situation. The carpet was never removed. I'm not sure why."
---
ServiceMaster Restoration by Complete Reviews
Review us on Google