(732) 751-4004
Mold is a dangerous presence in a home or building because it can cause deep structural damage if given enough time as well as negative health effects from allergic reactions to infections. Moisture is the one condition needed for mold to form and once it does, it grows on surfaces like wood and drywall that it can use as a food source. Mold growth is always at risk of spreading which is why you can never hesitate to address the issue. ServiceMaster Restoration by Complete provides mold remediation services in Middlesex County, NJ to completely eliminate mold growth from homes and businesses in Monroe Township, Edison, East Brunswick, and other surrounding towns. Our technicians will stop the mold from spreading to new areas and remove it with our advanced methods and equipment.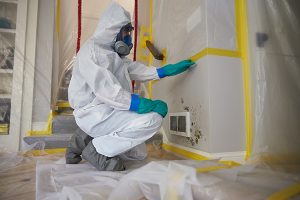 Mold often appears where there is water damage or excess moisture so it is important to control the moisture level in your home and take care of any water damage immediately. Once mold growth forms, it uses cellulose, an organic substance contained in drywall, wood, and other building materials, as its food source. Mold colonies literally devour the affected surfaces and this damage can eventually become severe enough to cause serious structural damage. The other major concern with mold is the negative health effects as those who are exposed may experience a range of allergic reactions including coughing, skin irritation, and itchy eyes or throat and even more serious conditions like respiratory infections and asthma.
Our technicians at ServiceMaster Restoration by Complete our trained and equipped to completely remove mold growth from commercial and residential settings. We use anti-microbial cleaning methods with the best cleaning products of the industry along with HEPA vacuuming to ensure that all mold and its spores are removed. We will also provide accurate testing to find all hidden mold growth with help from a nationally recognized environmental testing agency.
The basic steps of our mold remediation services include the following:
Thorough inspection of the mold growth and testing to find hidden mold.
The details of our inspection are provided in a report to your insurance company.
The affected area is isolated to prevent the mold from spreading.
A mold remediation plan is formed according to our evaluation of the mold growth.
The mold is fully removed and we make sure the affected area is cleaned and restored.
It is possible for mold to become a major issue pretty quickly so do not hesitate to call ServiceMaster Restoration by Complete if you have a mold issue in your home or business in Middlesex County, NJ. Our technicians can remove the mold growth with anti-microbial cleaning methods and we can help you take the right actions to prevent the mold from returning. You can call us 24 hours a day at (732) 751-4004 for mold remediation services.
ServiceMaster Restoration by Complete provides mold remediation for homes and commercial buildings in Monroe Township, Edison, East Brunswick, New Brunswick, Woodbridge Township, Metuchen, Old Bridge Township, Piscataway Township, and Perth Amboy in Middlesex County, NJ.
---
Recent Reviews
Review by

Shayon M.
for
Disaster Restoration
Rating

"The project manager and his team were very efficient and knowledgeable. Quick turnaround on all the issues we had at home."
---
Review by

Daniel C.
for
Disaster Restoration
Rating

"Work was excellent. Your people are very hardworking and conscience. I am very satisfied and would certainly recommend service master to friend and neighbors"
---
Review by

Valarie B.
for
Disaster Restoration
Rating

"All who worked did a great job, but there was a lack of communication between the various parties (insurance companies, condo association) about what work needed to be done to address the situation. The carpet was never removed. I'm not sure why."
---
ServiceMaster Restoration by Complete Reviews
Review us on Google