(732) 751-4004
The carpeting is usually one of the first features someone will notice when entering a home or office but it is sometimes forgotten about when it comes to providing effective maintenance. Carpets experience daily foot traffic that causes a buildup of dirt and debris in the fibers that cannot be completely removed with a vacuum. As this debris continues to buildup, the carpet will start to look discolored, stained, or worn out which can affect the comfort and appearance of your home or office. ServiceMaster Restoration by Complete provides carpet cleaning services for homes and offices in the communities of Middlesex County, NJ. Our technicians use our advanced equipment to deep clean and restore carpeting and rugs with the hot water extraction method.
Residential Carpet Cleaning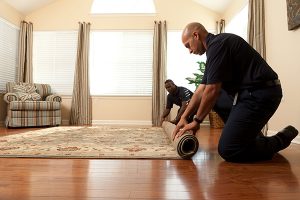 The carpeting in a home experiences more use than many of your other furnishings because of the daily foot traffic. Dirt, dust, and other debris constantly gather in the carpet fibers and consistent foot traffic only pushes the debris further down into the fibers. As the debris continues to accumulate, the carpet will look stained or discolored and eventually the fibers will start to deteriorate if the built-up debris is not removed. It is best to have your carpet professionally cleaned once every 6-12 months to remove debris from the carpet fibers and help improve the overall appearance of the carpet.
At ServiceMaster Restoration by Complete, we can effectively clean any type of carpet with the hot water extraction method. This method involves treating the carpet with a solution of hot water and detergent to help loosen the embedded soil, and extracting the solution back out along with the dirt and debris. The extracted solution is collected in a truck-mounted holding tank to be disposed of at an off-site location. This cleaning method does not leave any residue on your carpet and it will be dry and ready to use in less than 24 hours.
The carpet cleaning services we provide include:
Evaluation of the carpet
Pre-cleaning of areas with high foot traffic
Pre-treatment of spots and stains
Thorough cleaning with the hot water extraction method
Post treatment of lingering stains
Grooming of the fibers to improve appearance and help the carpet dry faster
Final inspection with you to guarantee your satisfaction
Commercial Carpet Cleaning
Carpeting in commercial settings like office buildings usually experience a higher volume of foot traffic than carpeting in a home which means that they can become dirty and worn out very quickly. It is important for you to consistently maintain the carpeting in your office because a clean carpet contributes to a more comfortable and healthy work environment and helps create a better impression of your business to visitors, customers, and employees. Our technicians can clean any type of carpeting found in commercial settings with the hot water extraction method and restore its original appearance. If you want consistent professional care for your carpet, we offer regularly scheduled cleaning services for businesses.
Our commercial carpet cleanings services have the following benefits:
Extended life for your carpet
Improved color and texture
Prevention of stains, matting, and general wear and tear
Thorough removal of all embedded debris
By having the carpeting in your home or office professionally cleaned, you can restore the carpet to its original appearance and add years to its life. Make sure you contact ServiceMaster Restoration by Complete if you are interested in professional carpet cleaning services for your home or business in Middlesex County, NJ. Give us a call anytime at (732) 751-4004 to schedule an appointment.
ServiceMaster Restoration by Complete provides carpet cleaning services for homes and businesses in Monroe Township, Perth Amboy, Metuchen, Edison, New Brunswick, East Brunswick, Old Bridge Township, Woodbridge Township, and Piscataway Township in Middlesex County, NJ.
---
Recent Reviews
Review by

Shayon M.
for
Disaster Restoration
Rating

"The project manager and his team were very efficient and knowledgeable. Quick turnaround on all the issues we had at home."
---
Review by

Daniel C.
for
Disaster Restoration
Rating

"Work was excellent. Your people are very hardworking and conscience. I am very satisfied and would certainly recommend service master to friend and neighbors"
---
Review by

Valarie B.
for
Disaster Restoration
Rating

"All who worked did a great job, but there was a lack of communication between the various parties (insurance companies, condo association) about what work needed to be done to address the situation. The carpet was never removed. I'm not sure why."
---
ServiceMaster Restoration by Complete Reviews
Review us on Google