303-800-3404
Residents of the Denver, CO area are well aware of the types of storms that can strike the area and cause damage to their property. Thunderstorms, blizzards, hail, and strong winds can occur throughout the Denver area and potentially cause damage to the roof, siding, and other elements of your home or building. When a major storm hits, you must immediately check your property for damage and call a professional right away to secure the building and begin the restoration before the damage gets any worse. ServiceMaster Fire and Water Restoration provides storm damage restoration services in Denver, CO to help repair homes and businesses that have been damaged. Our technicians can handle structural damage, board ups, and indoor flooding to restore your home or building to its original condition.
Storm Damage Cleanup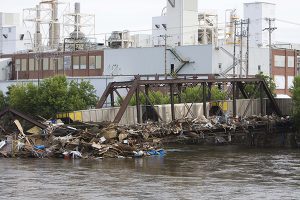 Severe storms in the Denver, CO area seem to have the same characteristics; heavy winds and rain or snow depending on the season. Wind and moisture are both extremely damaging elements. Strong winds can rip apart siding, windows, and roofing, allowing more rain and debris to enter the home. The wind can also cause additional property damage by blowing over large objects such as trees, vehicles, and utility poles. Moisture from rain or snow is always a threat to invade a home or building, especially if there is already structural damage from the wind. Water damage may not seem as severe as structural damage, but it can lead to more structural issues over time as the water spreads and gets absorbed by the building materials.
Make sure you check your property for storm damage and contact ServiceMaster Fire and Water Restoration to limit and restore the damage. Our storm damage restoration services consist of the following:
Water Damage Restoration: Leaks and in-home flooding are common after a severe storm. Excess water or moisture must be removed immediately from homes and buildings because it will not only spread and increase structural damage, but also create the right conditions for mold. We use advanced water extraction and drying equipment to remove flood water and thoroughly dry affected materials.
Tarping: If your roof is damaged, it cannot adequately protect your home or building from moisture or debris. We will tarp the roof to provide temporary cover until it can be repaired.
Debris Clearing: Our technicians will remove broken glass, tree branches, siding, and other debris from your property.
Board Ups: If your home or building sustains major structural damage, it may be at risk for collapse. We will board up the building to stabilize its structural core.
Flood Damage Restoration
One of the most common weather-related catastrophes is indoor flooding which can be caused by natural floods or heavy precipitation. Indoor flooding is especially dangerous because it will not only lead to severe damage to your property, but also create dangerous, unsanitary conditions. There is a high risk that any flood water that entered from outside contains flooding or harmful microorganisms, and the presence of so much water makes mold growth a high possibility. If a storm has resulted in flooding on your property, you can trust our experts at ServiceMaster Fire and Water Restoration to clean it up promptly.
Our flood damage restoration services consist of the following:
Complete water extraction to remove standing water.
Drying and dehumidification to extract moisture from the air and affected materials.
Cleaning and sanitization of the damaged area.
Cleaning of carpeting and upholstery.
You should always be aware of the weather in the area so that you can take the appropriate actions to protect yourself and your property from severe storms. If your home or building does sustain damage from a storm, do not hesitate to call ServiceMaster Fire and Water Restoration to limit the damage and start the restoration process. You can call us 24 hours a day at (303) 800-3404 to respond to storm damage emergencies in the Denver, CO area.
---
Recent Reviews
---
Review by Tjty James
Disaster Restoration
Rating

"Cassie and her crews were incredible. She truly made me feel like the patient who finally meets the doctor who can cure his or her ailment. She was prompt, knowledgeable, friendly and professional. Servicemaster is very fortunate to have such a wonderful employee."
---
Review by Courtney Clark
Disaster Restoration
Rating

"Super professional and on time. Recommend them to anyone."
---
Review by Joseph Steffens
Disaster Restoration
Rating

"Was moving out of my home and called ServiceMaster to clean our carpets. They did an amazing job and their technician was very detailed and a true expert! Would highly recommend this company."
---
See All Reviews