ServiceMaster at Bakersfield
Fires are destructive disasters because they cause extreme damage to property and risk the lives of people in the building. If you experience a fire on your property, your priority should be to evacuate the property and call the fire department to put out the flames. Call a fire damage restoration company after the fire is put out so the restoration process can begin as quickly as possible. Corrosive byproducts like soot, smoke, and residue will linger and cause additional damage after the fire has been extinguished.
ServiceMaster at Bakersfield provides fire damage restoration services to homes and businesses in the Delano, CA, area. Our professionals will repair structural damage, clean the effects of soot and smoke from affected materials, and restore your property to its original condition.
Damage Caused by Fire and Smoke
Every fire, no matter the size, is dangerous and causes serious damage to the building. Flames create structural damage and charring, and the heat causes soot, residue, smoke, and other corrosive byproducts that linger and cause additional damage. Oily residue and soot can cause etching and discoloration on affected materials, which will become permanent if not immediately addressed. Porous furnishings and building materials will also absorb the lingering byproducts and smoke.
Fire Damage Restoration in Delano, CA
For emergency fire and smoke damage restoration services in Delano, CA, call ServiceMaster at Bakersfield at (661) 232-0021.
Fire Restoration in Delano, CA
Our professionals at ServiceMaster at Bakersfield can handle fire damage of any kind, including soot damage, structural damage, and smoke odors. We will stabilize the structure of the building and clean areas and materials affected by soot and smoke. We will remove the effects of these corrosive byproducts from surfaces like tile, porcelain, chrome, aluminum, brass, carpeting, marble, and upholstery with advanced chemical cleaners.
Our fire and smoke damage services involve: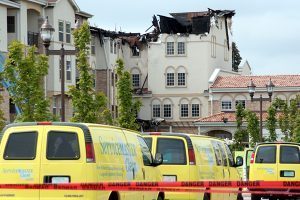 Emergency pre-cleaning
Odor removal
Ceiling and wall structure cleaning
Odor Removal in Delano, CA
Odor particles created by the fire will linger and spread after the fire is put out. They will be absorbed and trapped in air spaces and porous materials, making it difficult to remove the odors without advanced equipment and techniques.
Our trained techniques will use advanced deodorization techniques to extract and remove odor particles from air spaces and affected materials and areas.
Contact Us
If you have a fire in your home or business in Delano, CA, contact our professionals at ServiceMaster at Bakersfield immediately for an effective fire damage repair process. We will stabilize the building and begin restoring the property to its original state.
Contact us 24/7 at (661) 232-0021 for emergency fire and smoke damage cleanup.
---
Related Fire Damage Restoration Services:
Fire Damage Restoration Bakersfield, CA
Fire Damage Restoration Tehachapi, CA
---
Recent Reviews
---
October 10, 2020
Gloria Williams
Bakersfield, CA
ServiceMaster's staff were very professional and attentive to the needs of the customer. Always available for any questions or concerns, and addressed them promptly. Went above and beyond to make sure the work was done in a time manner. I would recommend this company to anyone needing their services!!
---
See All Reviews