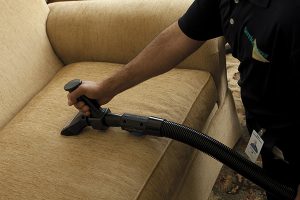 Similar to carpeting and flooring, furniture adds quite a bit of personality to a room. This presence, however, can be either good or bad. Over time, fabrics that make up the furniture can become discolored due to a buildup of dirt, dust, and debris, and they can even wear out altogether. Another problem is that upholstery is generally more difficult to maintain than carpeting. This is why we encourage you to take advantage of our professional upholstery cleaning services here at ServiceMaster Restoration by Complete for your home or business in Clifton, NJ.
Dirt, dust, and debris that get embedded into your upholstery over time can act like sandpaper when individuals sit on the furniture. Lodged deep within the fibers of your fabrics, this debris rips and tears at your upholstery fabric. Enough of a dirt buildup can even cause stains and discoloration. Cleaning the upholstery on your own can help to preserve its condition, but only a professional cleaning can make it look as good as new.
Residential Upholstery Cleaning
Furniture and upholstery within homes can be subjected to quite a lot. Pets, children, and even simple daily use can all contribute to a worn out, matted down look in your furniture. If not addressed, the furniture will discolor as tiny bits of debris build up within its fabric, and it will eventually begin to deteriorate. To make matters worse, common clothing materials such as denim and leather can speed up this deterioration because of their abrasive nature. To prevent against this, we encourage you to utilize our residential upholstery cleaning services here at ServiceMaster Restoration by Complete.
The primary benefit of our upholstery cleaning services is our hot water extraction cleaning method. This method makes use of a powerful, hot water cleaning solution that loosens embedded debris from deep within your upholstery, removes it, and leaves your furniture looking like new again. Not only will your furniture return to its original condition, but this will help to extend its life, as well.
The benefits that you can expect out of our upholstery cleaning services here at ServiceMaster Restoration by Complete include the following:
Vacuuming of upholstery.
Powerful spot and stain treatments.
Hot water extraction cleaning method.
Washing and polishing of furniture frames.
Commercial Upholstery Cleaning
In commercial settings, furniture can play a couple of unique roles. It can be used to make your office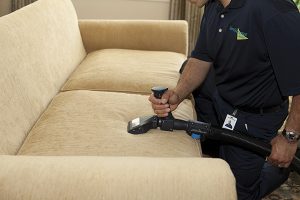 space look more prominent, and it can be a part of your employees' everyday activities. In either case, it is important that this furniture is well maintained. The last thing you want to do is give potential business partners and clients a negative impression because of the condition of your furniture. Likewise, your employees should not need to worry about damaged office chairs, couches, and other pieces of furniture. To help preserve your furniture, we can provide one-time or regularly scheduled cleaning services for your business.
In essence, we will be using the same cleaning approach as outlined in the bulleted section of Residential Upholstery Cleaning above; however, as a business, you can expect the following benefits:
Upholstery cleaning that utilizes industry-best sanitation equipment, solutions, and methodologies.
Restoration and a revitalized appearance.
Prolonged furniture life.
Savings over time.
If you are a home or business owner in the Clifton, NJ, area, then we encourage you to take advantage of our residential and commercial upholstery cleaning services. We are available 24 hours a day at (732) 751-4004, and can get a highly trained team of technicians to your location in short order.
---
Recent Reviews
Review by

Shayon M.
for
Disaster Restoration
Rating

"The project manager and his team were very efficient and knowledgeable. Quick turnaround on all the issues we had at home."
---
Review by

Daniel C.
for
Disaster Restoration
Rating

"Work was excellent. Your people are very hardworking and conscience. I am very satisfied and would certainly recommend service master to friend and neighbors"
---
Review by

Valarie B.
for
Disaster Restoration
Rating

"All who worked did a great job, but there was a lack of communication between the various parties (insurance companies, condo association) about what work needed to be done to address the situation. The carpet was never removed. I'm not sure why."
---
ServiceMaster Restoration by Complete Reviews
Review us on Google