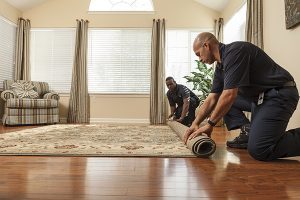 When you have guests over at your home, or business partners at your office, one of the first things they will notice is the condition of your carpeting. If it is in good condition, it will immediately stand out and put off a good impression. If it is discolored or worn out, visitors will be less impressed. Regular cleaning and vacuuming can help maintain cleanliness and keep it presentable, but only a professional cleaning will make it look like new. For these reasons and more, we recommend calling ServiceMaster Restoration by Complete to take advantage of our carpet cleaning services in Clifton, NJ.
Over time, carpeting is prone to discoloration and wear and tear. This is because it is often subjected to heavy foot traffic, as well as dust, dirt, and debris buildup that can cause damage deep in the carpet fibers. Our professional carpet cleaning services uproot this sort of debris, remove spots and stains, and restore worn out areas.
Residential Carpet Cleaning
Maintaining residential carpeting can be tricky business because of the amount of outside debris brought in by kids, pets, guests, and more. This debris can become lodged within the fibers of the carpet, making it impossible to remove with standard home vacuums. Once the buildup begins, the debris acts like sandpaper, wears down the carpeting, and even leads to discoloration. This is why it is generally recommended to have residential carpeting professionally cleaned at least once per year.
Here at ServiceMaster Restoration by Complete, our difference-making cleaning method is called hot water extraction. This process utilizes a powerful solution of hot water and detergent that loosens embedded debris. Once this is done, we extract the remnants, and remove it from your property for good. At the end of the process (it takes a little less than 24 hours to dry), your carpet will look as good as new.
In all, you can expect the following from our carpet cleaning services in residential applications:
Initial inspection of your carpeting.
Pre-cleaning and treatment of heavily affected areas, as well as spots and stains.
Our hot water extraction cleaning method.
Post-treatment of lingering spots and stains.
Grooming of your carpet fibers.
Final inspection of your carpeting.
Commercial Carpet Cleaning
Carpeting in commercial applications often sees a lot more foot traffic than carpeting in residential settings. Because of this, it is important that you continuously maintain your carpets' cleanliness. If this is not done, outside debris can get driven deep within your carpeting a lot quicker, resulting in discoloration and deterioration at a rapid pace. Not only does maintaining your carpets' condition keep your office space presentable, but it also helps give your employees a cleaner environment in which to work.
Our hot water extraction cleaning method is the only way in which we can dislodge and remove the toughest debris from your carpeting. In addition to the other aspects of our carpet cleaning process detailed in the Residential Carpet Cleaning section (the bullet points above), we offer regularly scheduled cleaning services to businesses.
You will receive the following benefits, and more, by utilizing our carpet cleaning services:
Extended carpet life.
Improved texture and color.
Removal of stains.
Prevention of matting down and general wear and tear.
Removal of embedded debris.
If you own a home or business, and would like to take advantage of our carpet cleaning services here at ServiceMaster Restoration by Complete, please feel free to give us a call at (732) 751-4004. We are open 24 hours a day, and proudly service those in the Clifton, NJ, area.
---
Recent Reviews
Review by

Shayon M.
for
Disaster Restoration
Rating

"The project manager and his team were very efficient and knowledgeable. Quick turnaround on all the issues we had at home."
---
Review by

Daniel C.
for
Disaster Restoration
Rating

"Work was excellent. Your people are very hardworking and conscience. I am very satisfied and would certainly recommend service master to friend and neighbors"
---
Review by

Valarie B.
for
Disaster Restoration
Rating

"All who worked did a great job, but there was a lack of communication between the various parties (insurance companies, condo association) about what work needed to be done to address the situation. The carpet was never removed. I'm not sure why."
---
ServiceMaster Restoration by Complete Reviews
Review us on Google