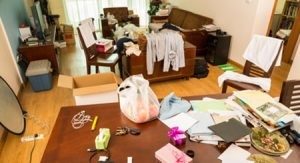 Across the United States of America, millions of people are affected by hoarding. This often occurs because these individuals feel some level of stress or anxiety when it comes to throwing out items that they do not truly need. This leads to the buildup of unnecessary belongings that can create unsafe and unsanitary conditions for family members and friends. Here at ServiceMaster Restoration by Complete, we help those affected by hoarding tendencies in Clifton, NJ clean their homes, and return their property to a livable condition once more.
The major problems that arise from hoarding tendencies are the increased likelihood of dust, mold, and other bacteria growing in areas that are never cleaned. Additionally, the buildup of belongings can create an extreme fire hazard, and even block avenues of escape in the event of an emergency. For these reasons and more, it is important to contact us here at ServiceMaster Restoration by Complete if you or a loved one is affected by hoarding tendencies. Many times, the hoarders themselves will be too embarrassed to seek help, which is why it is important for friends and family to approach them with respect, and explain how their habits are harming people they care about, including themselves.
When you choose to take advantage of our hoarding cleaning services here at ServiceMaster Restoration by Complete, you can expect the following:
Full removal of hoarded items (they will be thrown away, donated, or recycled)
Saving of valuable belongings (i.e. jewelry, money, etc.)
Delivery of personal belongings to friends and family members
Assistance with paperwork (i.e. from trusts, attorneys, government agencies, etc.)
In addition to the benefits listed above, you can expect the following 3 step approach from our highly trained technicians when you work with us:
Establish a Personal Connection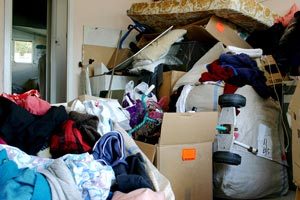 We understand how difficult it can be to approach a hoarder about cleaning their home. This is why we always approach affected individuals with the utmost respect and compassion, and aim to build a rapport before removing any items. We will perform an initial assessment and associated cleaning plan, but will not begin the cleaning process until we have your trust and approval.
Form and Implement a Cleaning Plan
Our cleaning plan will be based off our initial assessment of your property. While working with affected individuals, we determine which areas have been affected, and the best way to restore them. After we remove unwanted and unneeded items, we will help sanitize, restore, and rearrange what is left. Regarding whether we throw away items, donate them, or recycle them, we leave this up to the affected individual.
Follow-Up
Breaking hoarding tendencies can be a difficult process even after your property is cleaned. This is why we will create a regular cleaning plan for affected individuals to follow once we leave. In addition to this, we will call to check in on your progress, and return for further cleaning services if necessary.
If you or a loved one is affected by hoarding tendencies, we encourage you to give us a call here at ServiceMaster Restoration by Complete. Our hoarding cleaning services have been proven to better the lives of individuals affected by hoarding, and we always work with a sense of compassion. To take advantage of this service, simply call (732) 751-4004. We are available 24 hours a day, and proudly service those in the Clifton, NJ, area.
---
Recent Reviews
Review by

Shayon M.
for
Disaster Restoration
Rating

"The project manager and his team were very efficient and knowledgeable. Quick turnaround on all the issues we had at home."
---
Review by

Daniel C.
for
Disaster Restoration
Rating

"Work was excellent. Your people are very hardworking and conscience. I am very satisfied and would certainly recommend service master to friend and neighbors"
---
Review by

Valarie B.
for
Disaster Restoration
Rating

"All who worked did a great job, but there was a lack of communication between the various parties (insurance companies, condo association) about what work needed to be done to address the situation. The carpet was never removed. I'm not sure why."
---
ServiceMaster Restoration by Complete Reviews
Review us on Google