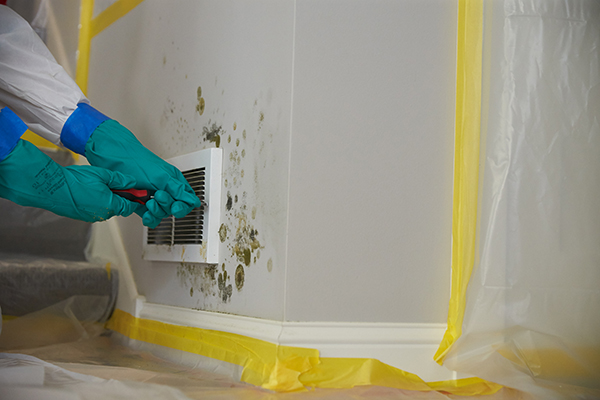 In addition to being a nuisance, mold can be dangerous in a couple of ways. It can cause severe structural damage to your home or business if left unaddressed, and can lead to severe health consequences for those exposed to it over a period of time. To make matters worse, mold is notorious for releasing its spores and spreading its growth. If you find mold on your property, and live in the Clifton, NJ, area, then we encourage you to contact us here at ServiceMaster Restoration by Complete right away. Our mold remediation services will eliminate all traces of mold from your property, and leave affected areas in pristine condition.
Mold can grow just about anywhere, so long as it has access to moisture and an organic food source. One of the main reasons that mold spreads so easily within homes is because some common building materials naturally contain cellulose, which is a food source for mold (these materials include drywall, wood, and others). As mold spreads, it will continue to devour and damage structural elements, and leave you and your loved ones at risk for related health issues. Exposure to mold can trigger allergic reactions, respiratory infections, and even asthma.
Here at ServiceMaster Restoration by Complete, our technicians are exceptionally trained to remove all mold from your property, and thoroughly treat affected areas. We do this by utilizing our anti-microbial cleaning solutions, industry-best methodologies, and HEPA vacuuming (to remove all mold spores).
For more detail on what to expect when you choose our mold removal and remediation services, please see below:
Swift Response: We are available 24 hours a day to take your call, and can get a team of technicians to your property within 1 to 2 hours.
Initial Inspection: We first perform an initial inspection to better understand where all mold on your property is hiding.

We provide the details of our assessment to your insurance provider for your convenience.

Containment: We isolate and contain affected areas in order to ensure that mold spores are not released and spread.
Mold Remediation: We then remove all mold from the affected areas based on our initial inspection.
Restoration: We fully sanitize and restore affected areas to their original condition.
If you would like to utilize our mold remediation and mold removal services here at ServiceMaster Restoration by Complete, feel free to give us a call at (732) 751-4004. We are available 24 hours a day, and can respond with a team of technicians within 1 to 2 hours of your call. We proudly service home and business owners in the Clifton, NJ, area.
---
Recent Reviews
Review by

Shayon M.
for
Disaster Restoration
Rating

"The project manager and his team were very efficient and knowledgeable. Quick turnaround on all the issues we had at home."
---
Review by

Daniel C.
for
Disaster Restoration
Rating

"Work was excellent. Your people are very hardworking and conscience. I am very satisfied and would certainly recommend service master to friend and neighbors"
---
Review by

Valarie B.
for
Disaster Restoration
Rating

"All who worked did a great job, but there was a lack of communication between the various parties (insurance companies, condo association) about what work needed to be done to address the situation. The carpet was never removed. I'm not sure why."
---
ServiceMaster Restoration by Complete Reviews
Review us on Google