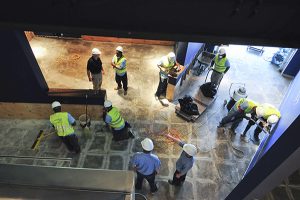 Natural disasters, such as heavy thunderstorms, fires, and blizzards, can leave your home or business in disarray. From structural damage to burst pipes, the damage can be extensive. In the event that your property is damaged, it is important that you get it stabilized, evaluated, and repaired right away. Here at ServiceMaster Restoration by Complete, we offer this and more with our construction services in Clifton, NJ. From emergency stabilization to full restoration, we have you covered.
Whenever large-scale damage occurs on your property, it can be difficult to know where to start. First and foremost, you must ensure that your loved ones, or your employees in business applications, are safe. Once this is determined, we encourage you to give us a call here at ServiceMaster Restoration by Complete. We can get a highly trained team of technicians to your property within 1 to 2 hours of your call to assess the damage.
Once on-site, our technicians will first evaluate the extent of the damage, and create a full reconstruction plan that will break down what exactly needs to be accomplished in order to get things back to normal. We are able to provide some of the best carpenters, handymen, and other subcontractors in the industry, and we will assign a project manager that will implement and oversee each step of the restoration process. As your home or office space is restored, this project manager will be available to answer any of your questions or concerns.
When you select ServiceMaster Restoration by Complete for our construction services, you can expect the following:
Timely Response and Open Communication: We are available 24 hours a day, and can get a team of technicians to your property within 1 to 2 hours of your call. When we arrive, we will begin an initial assessment of the damage, and keep you informed about our plans and progress.
Emergency Stabilization: If your building is structurally unsound, we will stabilize it immediately before proceeding with restoration work.
Full Reconstruction Services: From planning to implementation, we are here for you every step of the way. We take care of all of the following and more:

Architectural Reports and Blueprints
General Contracting
The Handling of Permits and Licenses
Carpentry, Framing, and Custom Woodwork
Plumbing and Electrical Work
Roof Repair and Replacement
Carpeting and Flooring
Applying Wallpaper
Smoke Sealing
Painting and Staining
Custom Window Treatments

Final Inspection: At the very end of our services, we will perform a final inspection to ensure that everything has been restored to the fullest extent possible.
Experiencing major damage on your property can be extremely taxing, both emotionally and financially. This is why we try to give you the greatest level of convenience possible through our full construction services here at ServiceMaster Restoration by Complete. If you would like to utilize our expertise, please feel free to give us a call at (732) 751-4004. We are available 24 hours a day, and proudly service home and business owners alike in the Clifton, NJ, area.
---
Recent Reviews
Review by

Shayon M.
for
Disaster Restoration
Rating

"The project manager and his team were very efficient and knowledgeable. Quick turnaround on all the issues we had at home."
---
Review by

Daniel C.
for
Disaster Restoration
Rating

"Work was excellent. Your people are very hardworking and conscience. I am very satisfied and would certainly recommend service master to friend and neighbors"
---
Review by

Valarie B.
for
Disaster Restoration
Rating

"All who worked did a great job, but there was a lack of communication between the various parties (insurance companies, condo association) about what work needed to be done to address the situation. The carpet was never removed. I'm not sure why."
---
ServiceMaster Restoration by Complete Reviews
Review us on Google