RestorationMaster
Experiencing a property fire can be one of life's most traumatic experiences. As the damage can not only severely affect the building materials, it can also affect one's personal items. While many individuals believe that the flames cause most of the damage during a fire, the majority of damage is actually incurred by the smoke and soot particles left behind. Even after the fire has been put out, the smoke and soot particles will cause etching and tarnishing to the affected surfaces. This is why emergency cleanup services are crucial in order to prevent permanent damage.
RestorationMaster provides emergency smoke and soot damage restoration services in Beaverton, OR to effectively restore the property and contents to their original conditions. We will also work with your insurance claims agent to eliminate as much stress for you as possible.
What Occurs During Soot and Smoke Damage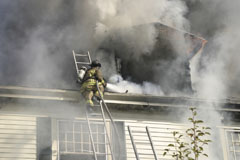 Throughout a fire, the smoke produced from the flames will cause the majority of damage to a home or building and their contents. This can cause severe destruction if treatment is prolonged. Just as the items and building structure are enveloped in the flames, smoke, and soot, they can sustain permanent damage.
However, porous materials can quickly take on the most damage in the shortest amount of times as the smoke will penetrate deep within their structure. These materials include: wood, drywall, paint, fabrics, and more. In addition, when the smoke is burned during a fire, it can cause etching and tarnishing, causing the most destructive damage to these materials. When this happens, it will leave behind a smoke residue that will feel oily, sticky, and even corrosive. Ultimately, when longer treatment is prolonged, the building or house will be left in an unstable condition and the risk for permanent damage increases by the hour.
Professional Soot Removal
This is why RestorationMaster will arrive on the scene right away to provide emergency soot and smoke removal services. Our technicians use advanced cleaning products and equipment in order to effectively remove the soot and smoke and save your property from sustaining permanent damage. They also undergo ongoing training in addition to their years of experience to continue providing you with quality and efficient restoration services in the area.
With our services, you are guaranteed a quality restoration job that is customized to fit your property and schedule, finally providing you with some peace of mind that you deserve.
Our smoke damage cleanup services include the following:
Emergency pre-treatment and cleaning (to limit the spread of the damage)
Stabilization and tarping
Content cleaning and pack out services (if applicable)
Restoration of damaged surfaces
Cleanup and restoration of upholstery, furnishings, and other fabrics
Deodorization (hydroxyl and ozone applications)
Content Cleaning and Pack-Outs
Throughout our process, we are committed to excellence and providing you with some peace of mind. We will do this by first assessing the damage and creating a customized plan that is guaranteed to restore your property as quickly and effectively as possible. Our services will also provide content cleaning in which we can also have your items restored in addition to your building materials.
RestorationMaster can also pack and transport them to be restored at our facility if the condition of your property does not allow them to be restored properly on-site. Smoke odors will also be removed from the property in order to purify the air for safe breathing conditions. Ultimately, with our services, you can finally have some peace of mind knowing that your property is on the quickest route to being restored to its original condition.
If you have incurred severe damage to your property from a house or building fire, do not hesitate to call emergency cleaning services as permanent damage can occur.
RestorationMaster is available 24/7 at (503)376-6666 for emergency smoke and soot damage restoration in the Beaverton, OR area.