RestorationMaster
(503)376-6666
Sewer cleanups can be one of the most dangerous damages incurred by your property. As they are not only messy to clean up, they also contain harmful bacteria and pathogens that can threaten your health. These harmful contaminants can include feces, urine, biohazards, and other waste, making the cleanup job extremely difficult. As this is considered an emergency in order to protect you and your family's health as well as prevent the water damage from spreading, it is imperative to call a professional sewage cleanup company right away.
RestorationMaster is available in the Beaverton, OR area to provide emergency sewage contamination cleaning services to both commercial and residential properties. Our technicians have years of experience in effectively extracting all sewage water with the use of professional equipment and use advanced products that will completely clean and disinfect the area. We will also work with insurance to allow the claims process to run smoother for you.
Damages Caused by Sewage Backups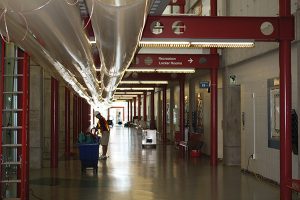 Sewage water can contain many harmful bacteria and pathogens that can be detrimental to your health. This is why calling for help right away is essential for preventing negative health effects in addition to containing the damage to the affected area.
When a sewer backup occurs, it is most often that a specific chemical or material has passed through the drain and has blocked the pathway of a pipe. As this becomes trapped, water will travel back up again, causing it to spill over the drain. The size of the mess can largely depend upon the pressure and amount of water that is usually passed through the drain.
In addition, backups can occur on the exterior part of the home as tree roots can wrap around the main water line. This can cause the pipe to burst and flood the yard in addition to the home or building.
Sewage Backup Cleaning
RestorationMaster uses advanced products and equipment to properly remove all water that is contaminated by dangerous contaminants. All damaged materials, including the building structure and contents, will be restored to their original condition. As our technicians have years of experience in safely removing sewage waste, they also attend frequent meetings in order to remain updated on the latest cleaning and water extraction techniques.
While we do ask that any dehumidifiers, air conditioning units, or heating appliances remain on to allow for proper air circulation, our technicians will move all furniture and upholstery from the affected area. They will also prevent additional damage by placing foil between the furniture chair legs and wet floor, prop up wet sofa cushions and pillows, and remove rugs and other items from the floor. Our high-velocity air movers and dehumidifiers will then dry out the affected building materials.
While clean water can cause much damage to a property and its contents, contaminated water can be a nightmare. While this is not only harmful to the building structure, it is threatening to your health as it contains harmful bacteria and pathogens.
RestorationMaster is available 24/7 at (503)376-6666 to provide effective sewage cleaning services in Beaverton, OR and the surrounding communities.