Overwhelming odors can linger long after the restoration process in a home or building is completed. But they can't be removed just by using any cleaning product; only professional equipment will be able to effectively eliminate each odor particle.
ServiceMaster Fire and Water Restoration is available in Arvada, CO to provide smoke and odor removal services for residential and commercial properties. Our technicians use the industry's most powerful, but safe equipment to remove the odor and the source, eliminating it once and for all.
Odor Mitigation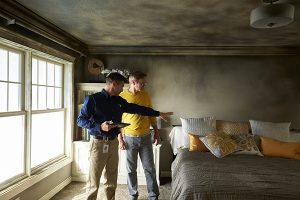 Regardless of whether the odor resulted from mold, fire, or water damage, these odors can be very stubborn. This is because they seep deep within porous materials and air spaces. With our powerful deodorizers, we can eliminate all unwanted smells from all materials and furnishings. This is done using the following equipment:
Hydroxyl technology
Ozone technology
Nano carbon technology
Thermal fogging
All of the following odors can be removed using our services:
Dead animal odors
Mold odors
Fire and smoke odors
Pet odors
Death scene odors
All of the following steps are included within our odor mitigation process:
Location of the odor's source
Removal of the source
Structural treatment of the element
Furniture treatment
Affected air space treatment
Powerful air washing
Sealing of the porous surface
Documentation of the deodorization process
All of the following odors from natural disasters will be removed:
Water Damage: After flooding or significant water damage, musty odors can linger throughout the property. These will be removed using powerful deodorizers.
Smoke Odors: Any smoke smells leftover from the fire will be completely removed using professional products.
Biological-Based Odors: Unpleasant smells can result from the blood and bodily tissue; these odors will be eliminated with our service.
Coming back to work or your home to an unpleasant odor can be unbearable, but you don't have to deal with it for long. ServiceMaster Fire and Water Restoration is available to provide professional smoke and odor removal services to effectively eliminate these odors and restore your property.
Contact Us
ServiceMaster Fire and Water Restoration is available at (303) 800-3404 in Arvada, CO to effectively remove smoke and odors from homes and businesses.
---
Recent Reviews
---
Review by Tjty James
Disaster Restoration
Rating

"Cassie and her crews were incredible. She truly made me feel like the patient who finally meets the doctor who can cure his or her ailment. She was prompt, knowledgeable, friendly and professional. Servicemaster is very fortunate to have such a wonderful employee."
---
Review by Courtney Clark
Disaster Restoration
Rating

"Super professional and on time. Recommend them to anyone."
---
Review by Joseph Steffens
Disaster Restoration
Rating

"Was moving out of my home and called ServiceMaster to clean our carpets. They did an amazing job and their technician was very detailed and a true expert! Would highly recommend this company."
---
See All Reviews